Published: 11:19 Tuesday - April 10, 2012
8 kilometers far away from Gia Nghia town following the national highway 14 going opposite direction to Buon Ma Thuot, Ba Tang (Three Floors) Waterfall has its name because after reaching the waterfall, the stream's water must pass three floors of waterfall to join the stream underneath.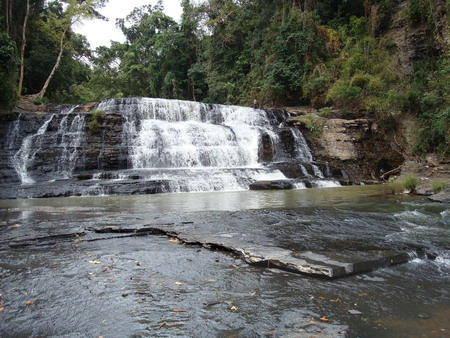 Three floors of waterfall locate continuously in a forty-kilometer length. The first floor is not very high, water from the rocks pours into the waterfall from 1.5 kilometers height. The second floor is about 20 meters higher than the first one. In this floor, the spring water, after crowding into closely laying rocks from the height of 2 meters, falls down and spreads white foam.
The third floor is the biggest and also the main one of Ba Tang Waterfall. This main one is over 20 meters height, boisterously flows both day and night among the quiet landscape of mountain area and floods to two coasts of the spring.
The stream here is quite large. Along the coast, there are many plants spreading their shades where visitors can pleasantly stand to contemplate the water flooding from the height in the resounding shout of the waterfall. Standing in land seeing upward, people will be fascinated by the scenery that the water vapor flying around looks like a fox layer coating the waterfall busily shouting forever in the green forest.
Around Ba Tang Waterfall, there are a lot of old trees and a flat, large, pure land area which are suitable for the tourists to camp, relax when visiting this attraction.
 Translated by V.T.D