Published: 16:06 Friday - July 19, 2013
Situated in Dam Thuy Commune, Trung Khanh District, 89km north of Cao Bang Town, Ban Gioc Falls is invaluable gift granted to Cao Bang by the nature. It is regarded as the most beautiful waterfall of Vietnam.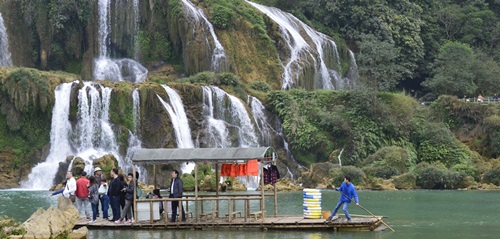 The waterfall is from Quay Son River. This Falls is blessed with picturesque scenery, fresh environment with grass cover, evergreen forest, bobbing white clouds mingling with the peaceful atmosphere of villages of mountainous ethnic minorities.
With a height of 53m and a width of 300m, the waterfall is divided into 3 layers, consisting of small and large upper flows.  From the distance, visitors can hear the roaring sound of waterfall echoing through a large area.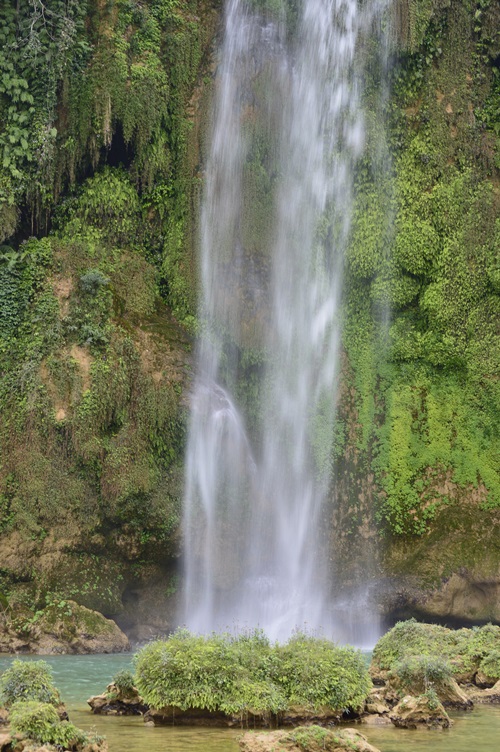 There is a large water mound, rising from middle of the waterfall, covered with trees, splitting the river into three spouts that look like three white silk strips.
At the foot of the waterfall, there is a large river that is calm as glass surrounded by many precious flowers. On hot summer days, it is still cool here. Every early morning, the sun shines through steam creating a sparkling rainbow.
Surrounded by picturesque karst peaks, the water rushes down a three-tiered cliff and is separated into three falls by rocks and trees. The guide said that the scenery changes according to the seasons.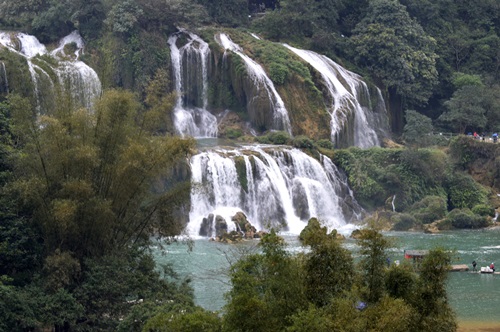 In spring, the flame-red blossoms are in full bloom, whereas it turns golden-yellow in autumn, its waters become stronger and more violent in summer and during winter the fall's clear water drops tenderly.
In rainy season, the warm color fields like as small islands standing out from the strange green background. When the rice crop comes with the yellow-covered to bring a photo of the warm rich border area beside white foam of the cascade . The rainy season begins from June through September, dry season from October to May. Because of the abundant water volume during rainy season changes colour of water into red and carries silt to provide lands for villages here, dry season falls in the green color to bring peace, each season has its own beaut
Nguyen Hao