Published: 23:44 Friday - July 19, 2013
Visitors to Vinh Phuc often climb the top of Tam Dao Mountain but a few knows the majestic beauty of Tam Dao in other side.
Our group had stunning trip on foot. We followed the crystal-clear stream that flows over magic rocks of Dai Tu District, Thai Nguyen.
Nearly 100km far from Hanoi, from the town of Ba Hang ( Pho Yen Commune) on National Highway 3, we turned a small asphalt road  and went straight about 30 km along green mountain, we reached the foot of Go Mieu.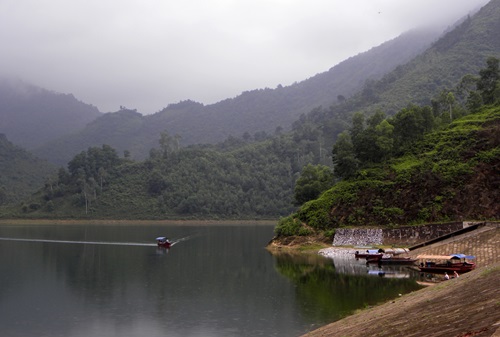 At the foot of Go Mieu
With just 100.000 VND, visitors can rent a boat for a 5-6 person group to explore the lake of Go Mieu.
Go Mieu lake is like a giant trough to contain water from dozens of stream, waterfalls from the top of Tam Dao. Every season, water of lake is always blue in color as picturesque scenery.
Sometimes, we saw the white clouds flying very low, it seemed to be across our boat. Small boat glided slowly on the surface of lake and took us into a canyon.
Between the blue of mountain, rocks with various shape and colors were looming our view. Being in the hot summer, everyone felt comfortable and cool when coming to the stream at the foot of Tam Dao. Going upstream, we seemed to be lost in a matrix of magic rocks.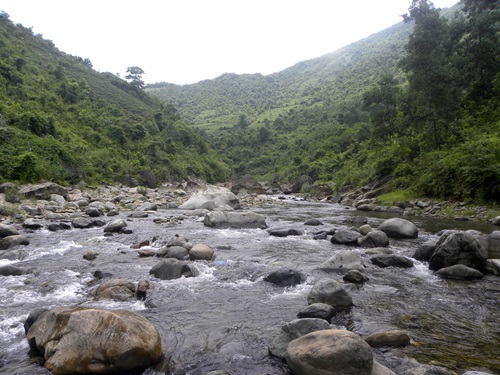 Some rocks looks like heavy truck, other is like teddy bear…It is so interesting!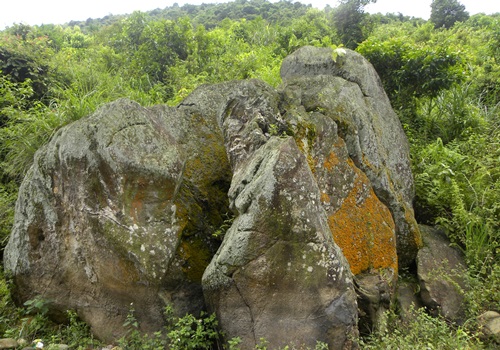 Giant rock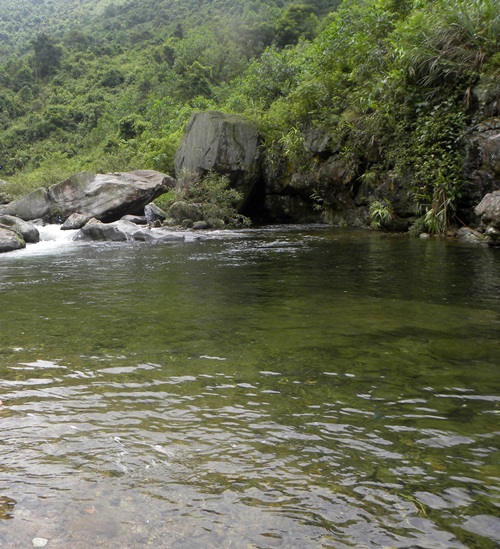 Crystal-clear water 
After then, we continued our journey at Noi Dong bridge. Here is a small and clear lake that is surrounded by yellow stones. Next to the lake is ancient si tree on giant rock. Next places we stopped were Coi beach, Da Coc. Explaining the name of those, the local people said that there are many sharp rocks around the area that are like piles.
After exploring magic rocks, people can bath in clear water to relax. If visitors want to stay for lunch or overnight, you can hire motel or stay at home's resident near Go Mieu lake at cheap price. In particular, you will have a chance to enjoy grilled fish.
The most attractive here to visitors is go fishing at stream. After then, visitors can relax and enjoy the delicious dish of grilled fish.
 Nguyen Hao