Published: 16:43 Wednesday - September 11, 2013
Sapa is the famous destination in the northwest Vietnam, opening the world of ethnic minorities' culture. One of distinctive cultural features here is the love market which takes place every Saturday night
Since the market, the place of goods trade and culture exchange, are held only once a week on Sunday, people living in the far mountain villages have to go in advance on Saturday to be able to join it. It is on Saturday night that young villagers get a chance to get to know each other by joining such activities as playing leaf-horns, playing traditional games, singing and dancing, etc.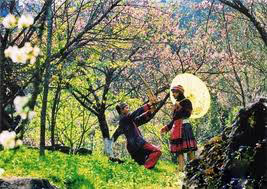 Weather in Sapa in this season is very nice
On the Saturday night, guys and girls from all villages come to Lao Cai to meet one another. They talk, sing and play different games according to their ethnic groups' tradition. After the night, many couples become intimate and promise to see each other again on the following morning. Many of them become husbands and wives in the spring.
The performances filled with romantic melodies express fervent wishes for eternal love. Not until the early hours does the market finish, leaving happy memories in the minds of many mountain people. After that night, some are lucky to find out the match and make an appointment on the next market. Many of them have later become partners sharing the same life for good and for bad. That is why the poets in Lao Cai called the market Sa Pa's Love Market.
There is also an interesting paradox in the name Love Market. Market is for trading: buying and selling. But no one there buys love or sells it. So why do they call it Love Market? Ironically, lovers take advantages of the market to see each other. Therefore, in a nutshell, Love Market is the place where people date and express their affection. However, it is also the place where cultural activities of people in the highland occur.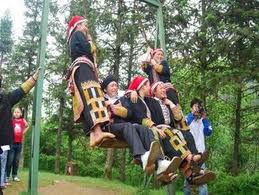 Since Saturday afternoon, many girls show up in colorful costumes and silver ornaments. The little bells on their outfits add to the festive atmosphere of the city.  They look for the guys dressing in traditional clothes of the same colors who hold in their hand small radio blaring cheerful songs. People stand in groups, singing and dancing their traditional dances until the night comes.
The most popular Love Market in Lao Cai is organized in nowhere else but SaPa, where it is gaining more and more attention of not only the ethnic people but also the travelers from many places in the world.
The love market has long been the not-to-be-missed event reflecting special culture of people of mountainous areas in general and of Sapa in particular.