Published: 10:57 Tuesday - June 26, 2012
Nha nhac, the court music of Hue, is an orthodox musical form which was considered the national music of the Nguyen Dynasty (1802-1945). Nha nhac was performed during important ceremonies of the court such as the Nam Giao Ritual, Xa Tac Ritual, coronation ceremony, congratulations for the king's longevity.
Hue court music has been recognized by UNESCO as a Masterpiece of the Oral and Intangible Cultural Heritage of Humanity.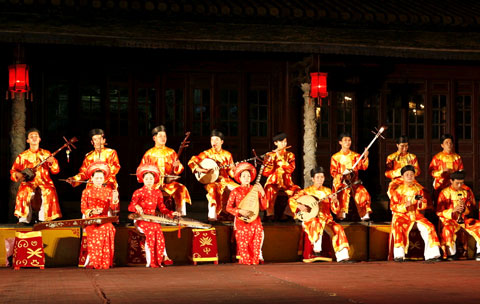 Nha nhac is a court musical genre with elegant lyrics and intricate dances. It symbolizes the eternity of the regal power and prosperity of the dynasty, so the monarchical dynasties in
Vietnam
attached importance to it. According to history books, Vietnamese court music has existed since the Ly Dynasty (1010-1225) but it flourished in the Nguyen Dynasty (1802-1945). Nha nhac in the Nguyen Dynasty was called Hue court music because this dynasty set up the capital in
Hue
where it remained for nearly 150 years.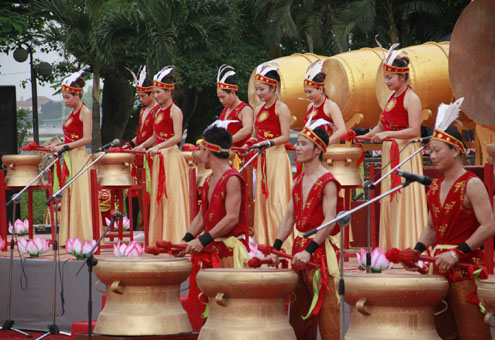 The special traits of Hue Court Music is the process of integrating, adopting and modifying Chinese, Champa cultures and Buddhist, Confucian impacts. Court Music is closely connected with "tuong" (hat boi) art. Hue Court Music synthetizes itself the abundance and diversity in many aspects including the art-type aspect, the genre aspect, types of instrument and timbre, in repertoires, in kinds of orchestra organization and ensemble forms, the performance environment and melody… So Hue Court Music could satisfy both the spectators' audition and vision by its abundance "dishes of different tastes".
Hue Court Music is the last vestige of Vietnamese Court Music. It contains all quintessence of Vietnamese Court Music trend that has been established and developed over 1,000 years, therefore Hue Court Music is identical with Vietnamese Court Music.
Source: Internet