Published: 19:31 Thursday - December 15, 2011
The Ho Dynasty Citadel which is located in Vinh Long and Vinh Tien communes of Vinh Loc district, Thanh Hoa province, is a unique stone structure built by the Vietnamese people. It is hoped that the Ho Dynasty Citadel will be recognised as a World Cultural Heritage Site.
Ho Dynasty Citadel is an architectural construction combined by a unique method of technique and arts in Vietnam from the 14th century to the 15th century. It is located in Vinh Loc District's Vinh Yen Commune; cut out of a cliff that rises 126.5m and covers an area of over 25 hectare.The construction is valued by the eastern with a combination of the achitecture and landscape in the Central Vietnam. The citadel was built in a short term and has existed for 6 centuries up to now. With some maintained values, the UNESCO has recognized the Ho dynasty citadel as a world culture heritage at the 35th session.
Ho dynasty citadel and background
Ho Dynasty was built in 1397. The citadel was built in a short term from January to March, 1937. Also, Ho Quy Ly moved from Thang Long citadel (in Hanoi) to Ho Dynasty Citadel. Ho Dynasty Citadel consists of a complicated architecture in a combination of natural aspect in order to ensure a new citadel in stead of Thang Long citadel.
Ho Dynasty citadel is made by a whole stone between Ma River and Buoi River in the Nothern Vietnam. The citadel is named other names such as An Ton citadel because the citadel is in the end of the Tran dynasty with a name of An Ton cave; Tay Do citadel due to a capital of Dai Viet (in 1397-1400) and Dai Ngu (1400-1407), etc.
It consists of three sections: a bamboo hedge, a moat and a citadel wall plus a palace complex with marble-paved roads connecting each palace to another.
Nowadays, after over 600 years in a long history, the citadel remains its own beauty with some walls and gates. Some archaeologies showed many structures of the citadel and recognizes a maintaining beauty.
Ho Dynasty Citadel – a unique architecture
Ho Dynasty Citadel is described not only a big architecture but also a unique and secret one as a great complimentary for the construction. The construction brings a great value and a cultural identity of Vietnamese culture.
Many researches have found a similarity between the western and the eastern area in Thang Long imperial citadel. It is an essential inheritance showing a cultural identity, which represents a historical period with many changes affirming a essential progress of the establishment of Ho Dynasty Citadel. According to UNESCO, it is recognized by its own cultural identity.
From its secrect, Ho Dynasty citadel symblizes an afford of the construction relating to some aspects such as exploitation and construction from some basic materials such as some big stones. Despite no a only stone-made construction, Ho Dynasty Citadel shows a unique architectural construction. It is vague when all big stones are sticked without using any stick as well as when some very big stone of 8-10m made by people. It is a secrect which people nowadays do not still find any answer.
According to these principles it was sited in a landscape of great scenic beauty on an axis joining the Tuong Son and Don Son mountains in a plain between the Ma and Buoi rivers. The citadel buildings represent an outstanding example of a new style of south-east Asian imperial city.The centre has unearthed 21 flagstones scattered across a wide area.
Based on cutting marks on the surface of the stones and comparisons with stones from the citadel, experts said that the stones were intended for the citadel but discarded because of faults such as cracks and size.
As a capital of Dai Viet, Tay Do is built according to some principles of geography with a river and mountain in a surrounding. The citadel uses up to 20.000 m3 stones and nearly 100.000m3 lands. Tây Đô castle is rectangular in shape. Its north-south side is 870.5 m (2,856 ft) in length and its east-west side is 883.5 m (2,899 ft) in length. There are four gates: one at the south (fore gate), one at the north (back gate), one at the east (left gate), and one at the west (right gate). The southern gate is 9.5 m (31 ft) high and 15.17 m (49.8 ft) wide. The castle was constructed from stone blocks, each of which is 2×1×0.7 m (6.6×3.3×2.3 ft) size on average.
It is possible to say that Ho Dynasty Citadel shows its own beauty. The relic site is a suitable place for exchanging and sharing some cultural values betweeb Vietnam and East Asia adnd Southeast Asia; marking a great change for the country in Ho Dynasty. Ho Dynasty Citadel becomes a world cultural heritage marking a beauty of Vietnam introduced to the globe.
Ho Dynasty Citadel- an itenerary honouring a title of world cultural heritage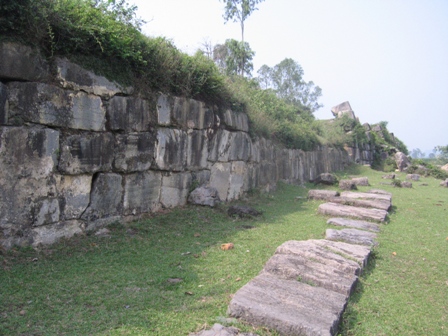 The itinerary has lasted for 6 years in 2006-2011 periods. Beside some affords of some agencies; some domestic and foreign experts; Thanh Hoa provincial People's Committee and Vinh Loc's people have tried to introduce some values to outside as a dicisive aspect to recognize a the citadel as a cultural heritage of human.
Luu Tran Tieu, president of the National Council for Cultural Heritage said it was an important discovery in the context of the citadel's history "The province should work quickly to protect the area. Moreover, they need to continue their work to add scientific basis to their theory and report it to the United Nations Educational, Scientific and Cultural Organisation (UNESCO)," he said.
Ho Dynasty Citadel meets two priorities No.1 and No.2 of UNESCO. It is a a suitable place for exchanging and sharing some cultural values betweeb Vietnam and East Asia adnd Southeast Asia; marking a great change for the country in Ho Dynasty as well as contributing to promoting some new reforms in Vietnam.
Tobe recognized as a world cultural heritage, it is necessary to participate by some ministries and agencies as well as the State. Many seminars and sciencific councils organized to discuss about some cultural and historcal values of the Citadel.In a progress of Document establishment, Thanh Hoa province has invited some experts from contribute some opinions for a fulfillment. The Document was submitted to World Heritage Committee for a consideration. After that, the Committee checks about some maintaining operations as well as some measures for a heritage development.
In late 2006, Thanh Hoa Province established the Direction Board to build some Documents on world heritages led by cive-president Vuong Van Viet as a head of the Board. Thanh Hoa provincial Department of Culture, Sports and Tourism and Cultural Department co-associate to fulfill the Document.
On September 22, 2009, a sery of the scientific document sent to World Heritage Center in Paris, Francce to participate into a role of cadidate for a member of world cultural heritage. The Document is 161 page long with 250 drawings, 76 photos and 76 slides,etc The UNESCO recognized the Ho Dynasty Citadel as a construction of a tradiional technique and arts in Vietnam in particular and the world in general.
With UNESCO's recognition announced on Monday, the Ho citadel is now one of the seven world cultural and natural heritage sites in Vietnam besides Ha Long Bay, Phong Nha – Ke Bang National Park, Hoi An ancient Town, Hue Ancient Capital, My Son Holy Land, and the Thang Long Royal Citadel.
Maintainence and development of cultural heritage of Ho Dynasty Citadel today
According to some appreciations from some nations such as Switzeland, Australia, Africa and Latin America, the Citadel shows global values. With some impressive agreements, Ho Dynasty Citadel is honoured.
Therefore, it is a responsibility for Thanh Hoa in particular and Vietnam in general to participate into a maintainence and development of the heritage. It is a target to turn the Citadel into an attractive destination of some tourists.
Accordingly, the construction should be promotedd to protect through increasing an awareness of people and a care from some agencies. It is necessary to turn people living together the relic cite. Therefore, they will create a living space of harmony between the nature and people like a combinition of responsibility and sake from people. In so-doing, the heritage will be protected in a community.
According to Mr. Nguyen Van Tuan, a Thanh Hoa provincial manager of Culture, Sports and Tourism, Thanh Hoa pledges to comply with a convention of UNESCO in 1972 as well as some requirements of UNESCO and International Center as ICOMOS in a maitainence and development of the heritage values in the Citadel. Also, Thanh Hoa will encourage introducing and propagandizing picture and some historical and cultural values to domestic and international friends as well as increase some awarenesses of some cadres and people in locality about some meanings and some importances of the heritage for a maintainence and development of the heritage.
In particular, Thanh Hoa tends to participate into maintanence and development of the heritage through a propaganda and an introduction to help some local people understand more about some values which they belongs to. Therefore, some responsibilities for the maintainence and development will be enhanced. Some tours around Thanh Hoa will be built to promote Thanh Hoa tourism. Thanh Hoa also tries to receive some investments from some investors to enhance a tourism devepment in the province.
It is 6 years to become a world cultural heritage but is a longer time to turn the heritage into a great cultural property with its own nature.
Source: Cinet