Published: 14:21 Monday - June 25, 2012
Quan Ho is the folk songs of the northern plains, our economic center in the North (Bac Ninh ).
This includes many factors such as music, lyrics, costumes, festivals ... with familiar lyrics showing close relationship between " Lien anh" and "Lien chi"· and· typical culture of Kinh Bac people.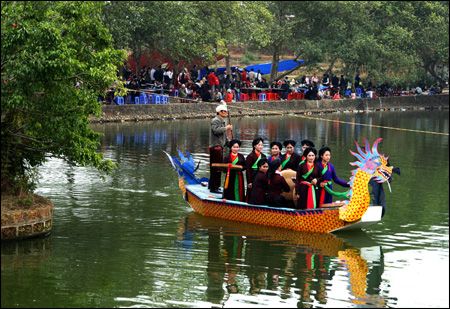 The girls is singing " Quan Ho" on the lake
In 2009, at the 4th session of the Intergovernmental Committee of UNESCO Convention on Intangible Cultural Heritage Protection (from September 28th  to October 2nd, 2009), Quan Ho and Ca Tru  were recognized as intangible heritages of human, following Hue royal music, cultural space of Tay Nguyen gongs.Quan Ho exists in a cultural environment with its own social customs such as villager makes friends together.
Quan Ho is also famous for food such as areca, tea. The tray that is woven and red painted, also called the "Mam son", has been formal and close between the host and the guest. The food in the meal depends on each village but chicken, lean pork paste pork, especially non-fat foods to avoid broken voice."Lien anh" and "Lien chi" costume is different. Costume of "Lien chi" composed of palm hat, turban, brassiere, shirts, belts, shoes. Costume of "Lien anh" includes turbans, short jackets and "Ao dai".
Quan ho folk song help us access to non-material cultural heritage of mankind, based on cultural values, social practices, performance art, cultural style, the lyrics and costumes.The folk songs is not only their pride, typical feature of Kinh Bac people, but also pride, a unique subculture of Vietnam, becoming Cultural Heritage of humanity. Moreover, Quan ho is very popular and tourists can enjoy in many places. Particularlly, the Lim Festival opens from 12 to 14 lunar months each year, of which 13 are on the main festival, is often prolonged period of 3-5 days (From11 / 1 to 15 / 1 Lunar calendar)
Source: Internet