Published: 22:12 Friday - January 11, 2013
Top book center of Vietnam record Organization has just nominated 10 most breathtaking bays in Vietnam. Visitors cannot miss the romantic and stunning scenery of beaches.
1. Ha Long Bay (Quang Ninh)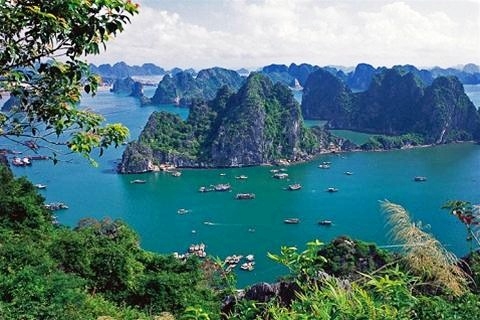 Ha Long Bay is like a vivid huge water-color painting. Thousands of rocky islands bobbing on mysterious shimmering waves, are not only strong and spectacular but also charming and vivid.

On November 11, 2011, The New 7 Wonders Foundation officially listed Ha Long Bay as one of new seven natural wonders of the world.
2. Lang Co Bay (Thua Thien – Hue)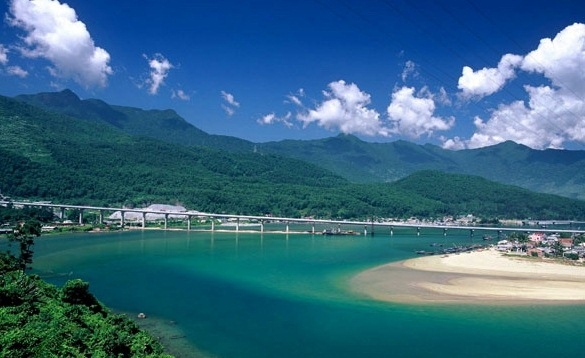 Lang Co Bay, Phu Loc district is a potential place due to the nature and beautiful scenery. Above the bay is Hai Van moutain pass, mountains stretch away to the edge of sea. Below the bay is Lang Co beach with a stretch of white-sand and blue seawater.
Lang Co is a peaceful and primitive beach with a stretch of smooth white- sand and a blue and clear sea. Now, Lang Co Bay is officially the 30th member of World bays Club.
3. Xuan Dai Bay (Phu Yen)
Travelling about 45 kilometers to the north of Tuy Hoa city, Xuan Dai will appear as a water-color painting. The Bay is created by a range of mountains stretching away 15kilometers to the sea. It is like a head of unicorn.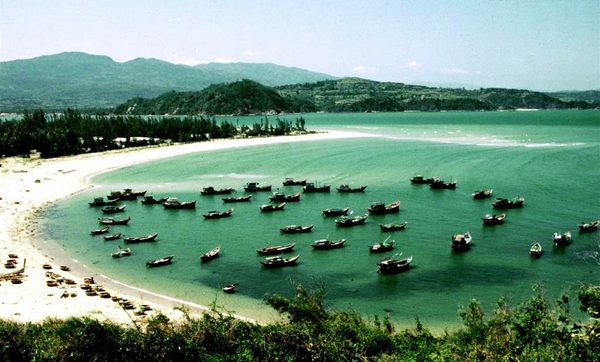 Xuan Dai Bay has a variety of terrain. Rapids follow puddles, puddles follow beaches, beaches follow mountains, stretching endlessly. Xuan Dai has plenty of mountains, islands and peninsulas. All of them bring primitive beauty.

The other distinct character of Xuan Dai is smoothly white sand. In the nominated list of the most beautiful bays in the world, Xuan Dai bay is one of the tourist attractions in Phu Yen.
4. Vung Ro Bay (Phu Yen)
Vung Ro bay comprises 1,640 hectares of water surface with fascinating landscape which is ideal for sightseeing and swimming. There is a lot of seafood and and colorful coral reefs in the seabed of Vung Ro and services of fishing, swimming and diving.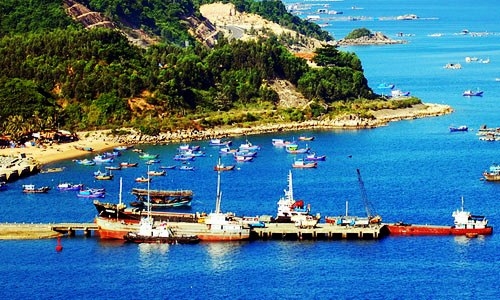 Peninsulas cover Vung Ro, making it a good harbour for ships to anchor, to avoid storms and to fish. Vung Ro is shielded in the north, the west and the east by 3 ranges of mountain Deo Ca, Da Bia and Hon Ba. The south is seaport and Hon Nua island that is 105 meters in height and is like a fortress to guard vessels.
5. Nha Trang Bay (Khanh Hoa)
Shielded by 19 large and small islands, Nha Trang bay is out of wind without big waves. In Nha trang, there are almost 10 islands of salangane. Exploiting salangane's nest gives Khanh Hoa province sale of million dollars annually. The other exciting world under the surface of Nha Trang bay is the world of 350 species of coral, 190 species of fish, mollusk, crustacean, sea grass…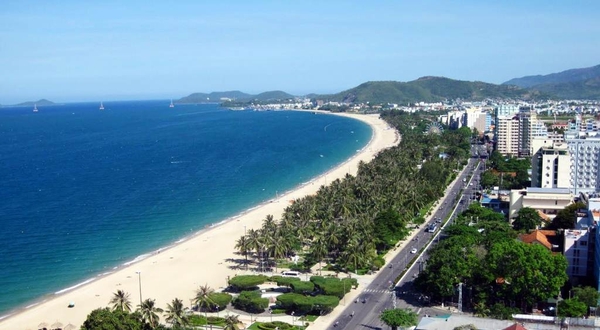 Regarding to the ecosystem, Nha Trang bay is one of rare natural system of  beaches and bays in the world because it has almost typical and rare ecosystem of tropical beaches. That is wetland ecosystem, coral reefs, mangrove forest, sea grass cover, estuarine ecosystem, island ecosystem, coastal sand ecosystem.

In July 2003, Nha Trang bay, together with Ha Long bay, is officially recognized as one of 29 most beautiful bays in the world.
6. Van Phong bay (Khanh Hoa)
Van Phong is in Van Ninh district. From Nha Trang, it is about 80 kilometres to the north. There is a variety of the terrain of the bay, especially the system of islands, peninsulas, deep bays, attractive sand dunes. The bay has the diverse ecosystems such as tropical forests, mangrove forests, coastal flora and fauna.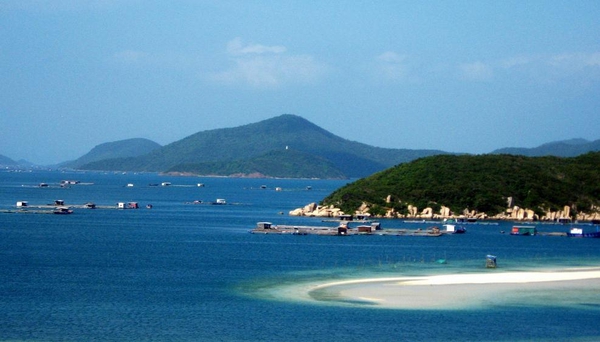 In recent years, Van Phong bay has attraction of domestic and international researchers and tourism operators.
7. Ninh Van bay (Khanh Hoa)
Ninh Van is a beautiful island located in the community of Nha Trang bays, in Hon Heo peninsula, Ninh Hoa district, Khanh Hoa. The landscape in Ninh Van  unchanges in comparison with the natural and primitive scenery. Ninh Van is like a peaceful heaven with high mountains, and the forest stretching as far as the eye can see.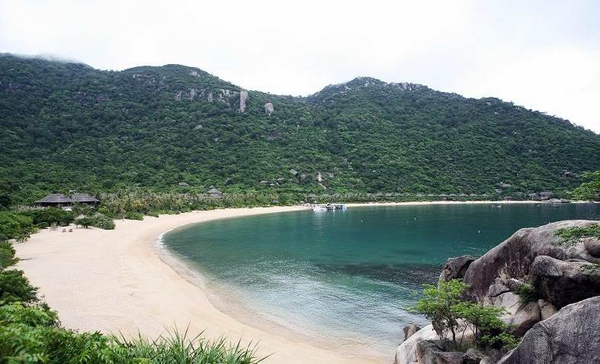 The smoothly white sand, turquoise blue sea or exciting coral reefs are main factors attracting visitors to go to Ninh Van. You can only see small wooden houses in the seaside, in rocks or in hillside here…
8. Cam Ranh bay (Khanh Hoa)
From Nha Trang city, travelling about 60 kilometers to the south, you will arrive Cam Ranh bay. The bay is immense and tranquil in the color of blue. In the bay, there are many coral reefs and flocks of colorful fish, which attract people having passion on scuba diving.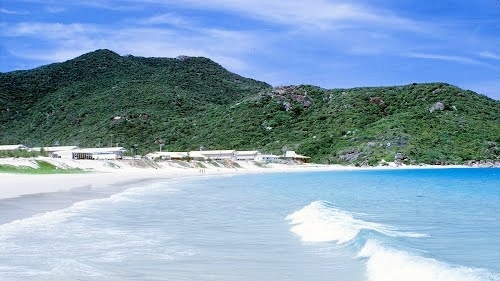 Beautiful beaches with lines of high coconut trees feature the central coastal region. Cam Ranh bay is an ideal place for international sea tourism such as: boating, fishing, diving and seeing coral reefs, relaxing, treating, climbing mountain…and is in no way inferior to anywhere in the world.
9. Vinh Hy Bay (Ninh Thuan)
Located in Vinh Hy village, Vinh Hai commune, Ninh Hai district, Vinh Hy Bay is about 40 kilometers from the centre of Phan Rang city. Vinh Hy Bay is surrounded by rocky mountains with mysterious caves. Vistors can enjoy clear atmosphere and watch flocks of fish swimming around boats in the blue seawater.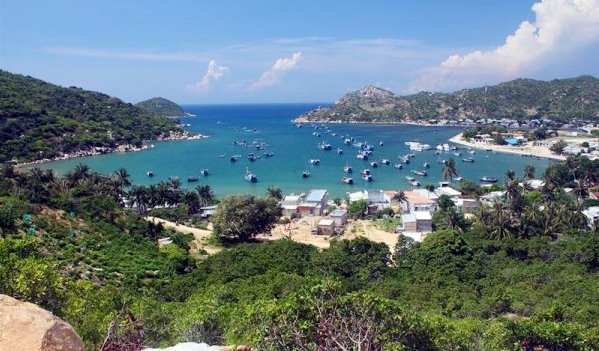 Vinh Hy is a charming picture. In the picture, life of people here and the short stop of visitors are sketchy lines, which make the picture more fascinating. In the journey, tourists will spend time on visiting and feeling the simple and wonderful gift of nature in the central Vietnam.
10. Ha Tien Bay (Kien Giang)
Ha Tien Bay has 105 large and small islands. One of them is Hon Nghe island where fish-breeding  is developing, and there are many tourist attractions.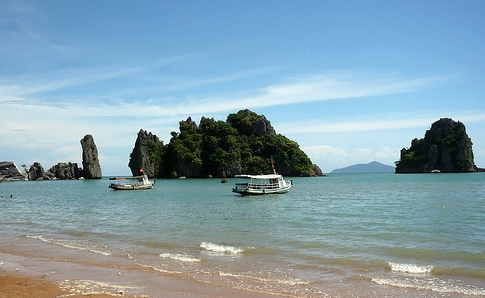 Nature bestows on Ha Tien a harmony of landscapes: mountains, sea, islands and delta combined to form a picturesque land. Ha Tien Bay attracts almost visitors going to Mekong delta due to the breathtaking landscapes and a lot of specialities.
Translated by Nguyen Quynh