Published: 14:18 Monday - January 02, 2012
It's really a peaceful tropical paradise with turquoise waters, untouched natural environment, relaxed atmosphere, friendly locals...
Phu Quoc is an almost unknown destination in Vietnam Tourism. International tourists and Vietnamese alike just recently discovered Phu Quoc. It is not hard to see why many travelers in Vietnam travel are boasting of the splendid natural beauty and untouched remote beaches of this spectacular tropical island.
Surrounded by more than 40 km of white beaches decorated with coconut palms, Phu Quoc, situated in the Gulf of Thailand near the Cambodian border, is Vietnam's largest island.  It is closer to Cambodia than the closest mainland town of Ha Tien in Vietnam in the Kien Giang province, which is 46 km away. Its western coastline is sparsely populated while the interior is largely covered with jungle and mainly deserted. 
Although Phu Quoc is a new holiday destination, in the first quarter of 2007, about 50,000 visitors came to the island of which 50 per cent were foreign tourists.  According to new targets released by the Government, Phu Quoc is aiming to attract 2-3 million visitors annually by 2020, with a larger portion of foreign tourists.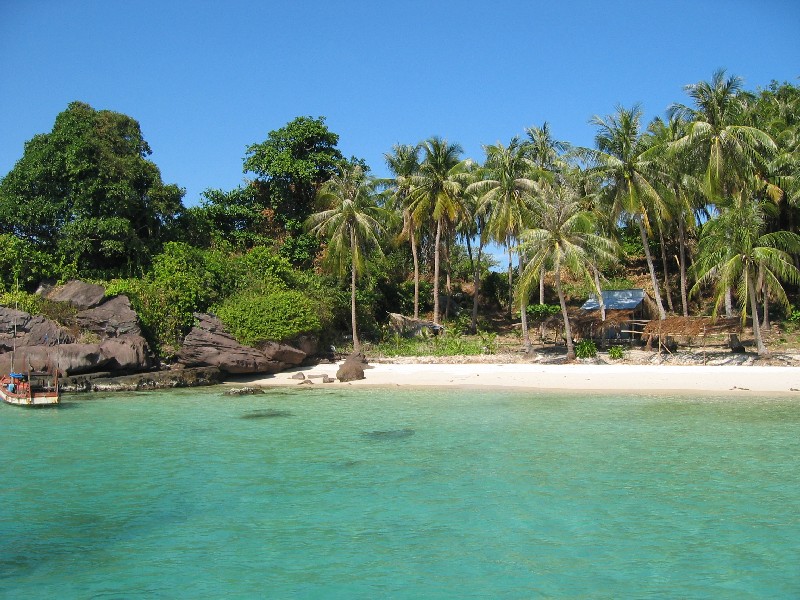 Phu Quoc is blessed with favourable natural environment like the virgin forest of over 37,000 hectares, white sandy beaches, coral gardens offshore, varieties of wildlife species, so it is not hard to see why the island has great tourist potential. The government has formed a master plan to develop the island into a high quality eco-tourism destination by 2020. As investment starts to flow into Vietnam, the Island will slowly undergoing development and improved infrastructure. The Prime Minister has offered the best preferences possible for domestic and foreign investors to allow development of the Island, leading to an international standard tourist and trade centre by 2010 through to 2020.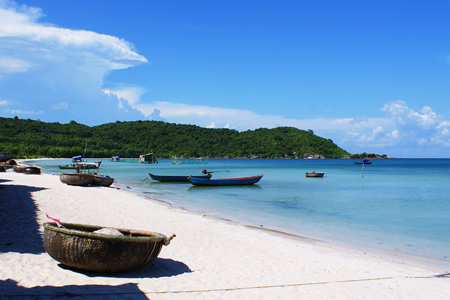 In the third quarter of 2008, officials plan to start construction on an 800 hectare international airport that can accommodate large passenger jets and link the island with major regional hubs (e.g., Singapore, Thailand, China, Japan, Hong Kong, etc)
Tourists in  Vietnam travel can start exploring the island in Duong Dong, the biggest town on the island (west of Phu Quoc), where most of hotels and resorts are located. Going south, you can drive along Bai Truong (Long Beach), which is a 20 km long, spectacular beach. You will see two pearl farms on the right, the second is worth a visit. At the end of the road turn left (you can't miss it) and follow the signs, you will reach the fisherman village An Thoi and the An Thoi pier, the island's southern tip. From here the An Thoi Islands, a very nice snorkelling and diving area consisting of 15 small islands and islets surrounded by coral reefs in crystal clear water, can be visited by boat.
Continuing to travel north-east, tourists in  Vietnam travel will see a sign to Bai Sao Beach (the sign is somewhat hidden, around 1 km away from the main road). Bai Sao Beach, with its marvelous white sand and green-turquoise water, is one of the most beautiful, quite untouched beaches on Phú Quốc Island. There are a number of simple, on-the-sand restaurants with tasty, fresh seafood in this area. 
Before going back to Dương Đồng, there are some recommendable springs and falls: Tranh Stream and Đá Bàn Stream. Tranh Stream (some 10 km north of Bãi Sao Beach) is a stream connecting tiny ponds at different levels through small waterfalls. Đã Bán Stream (a stony surface stream, north-east of DDuong Động) is an easily accessible white-water creek, gracefully flowing down huge granite boulders, on which you can wake; in some places there are natural pools waiting for a refreshing swim.
A stay on Phu Quoc Island would not be complete without visiting one of the factories producing fish sauce, one of the most popular ingredients of the Vietnamese cooking as well as one of the pearl farms with panels describing the formation of pearls and shops selling pearl jewellery.
This island has a unique species of dogs, the Phu Quoc Ridgeback, which has a ridge of hair that runs along its back in the opposite direction to the rest of the coat. Much of this island's nature is still protected. Around 70% of the island, an area of 31,422 hectares, became a national park in 2001. The rainy season on Phu Quoc is from July to November and the peak season for tourism is midwinter, when the sky is blue and the sea is calm.
If  tourists Vietnam travel like untouched nature and pre-touristic surrounding, don't hesitate traveling to Phu Quoc!