Published: 22:54 Monday - December 19, 2011
Coming to Nha Phu Bay, you will find yourself in another sparkling but charming world.
Situated 15 kilometers to the north of Nha Trang province, Nha Phu is one among the four big bays of Khanh Hoa Province.
Nha Phu bay creates another attraction to tourists. The region has a diversified floral and fauna system with forest, river and stream, and islands. It's a haven for nature lovers who want to immerse themselves in tranquility. Nha Phu bay has peaceful waves all year around. In the middle of the sea and blue and clear sky, the cluster of dreamlike islands looks like the sails to be filled with winds going offshore.
Thi Islet is one of the more popular islands. It features a pristine beach for swimming and playing games, and visitors can enjoy char-coal-grilled or fried fresh seafood, meat and vegetables that are served on bamboo tables.
Lao Island is another attractive island in Nha Phu Bay. It is named "Monkey Island" because there are hundreds of monkeys living in flocks in the wild forest and they are friendly with visitors. As coming to Lao Island, tourists can enjoy entertainment and recreational activities as sea bathing, boat racing, horse riding, fishing, flowers, birds and golden fishes parks, especially circuit performances of elephants, bears, monkeys, dogs, and cats. On Lao Island there are guesthouses and accommodation establishments available, which bear in-depth traditional identities and unique characteristics of Vietnam tourism.
The most charming spot to be mentioned is the Hoa Lan Stream (Orchid Stream) with lots of orchids and many kinds of trees surround. The island is formed by many small streams flowing down Hon Heo Mountain, winding through rocky hills for six kilometers and across the plain before emptying into Nha Phu Lagoon.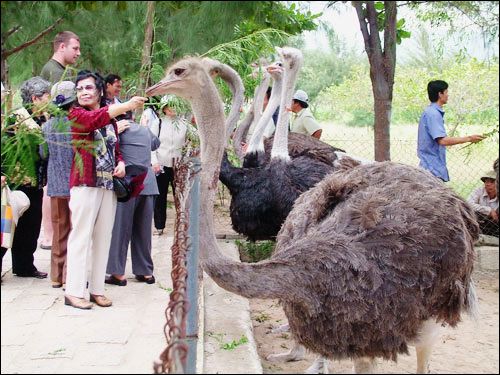 The Stream is not only attractive for its wonderful scenery, but it also maintains the impression of the ancient Cham inhabitants. Besides, you may also take part a variety of activities like camping, kayaking, ostrich riding, an animal circus, mountain climbing or sea-sports such as parasailing and jet skiing.
Come Nha Phu Bay in Vietnam travel is really very suitable for dynamic and nature-loved travelers.