Published: 08:58 Wednesday - September 25, 2013
Thang Long-Hanoi, the 1000 year-old city, is not only the centre of politics, economy, society but also the centre of dishes, art of traditional cuisines.
Dishes from many locals brought to Hanoi, if they are delicious and suitable taste, they will become one of favorite dishes of Hanoians. Therefore, Hanoi's cuisine is the mixture of many different cuisines. The sophisticate of Hanoi cuisine is expressed in the way of cooking, tasting and the way of the givers and receivers. Each Hanoi dish also has its own flavor, tastes that it hasn't been the normal dish anymore but the art of cuisine. Hanoi's dishes have impressed not only home-away people but also tourists who come to Hanoi
Hanoi's delicious dishes often present in flights to/from Hanoi as well as all destinations in Vietnam, which bring international friends interesting experiences of these traditions and cultures.  
We can list some featured dishes of Hanoi severed in flights of Vietnam Airlines as follows:
Pho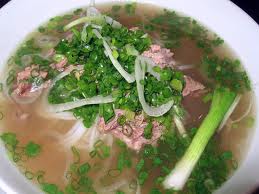 It can be said that Pho is the most characterized dish of Vietnam cuisine to international communities: "Pho" is kept its own expression and way of writing like sushi of Japan or kimchi of South Korea. We can clearly see that "pho" has extended its reputation to many other countries. We can see some queer slogans like I love Vietnam, I love Pho. Hanoi's pho has been never-ending inspiration for many famous Vietnamese writers like Nguyen Tuan to compose long-standing poems.. 
La Vong grilled chopped fish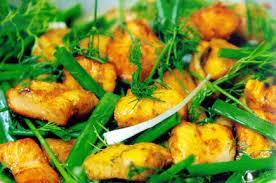 In the years of the French invasion at 14 Hang Son, Hanoi, there is a Doan family. They preserve their house as resident place for the De Tham insurgent army. Each time guests arrive home, hosts often cook a delicious grilled chopped fish for their guests. These guests help this family open a restaurant to sell this dish for their lives and gathering places of the insurgent army. "Cha ca" has now become the name of a city. In the restaurant, there will be a man named La Vong-Khuong Tu Nha who is going fishing- the symbol of a talent to look for his fortune. Therefore, its familiar eaters called it as the grill chopped fish La Vong and now it has been the name of a restaurant and the name of a dish.   
Che Com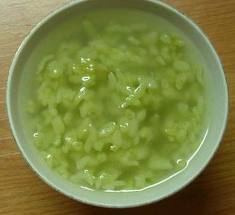 Green sticky rice made from young rice has been the specialty of Hanoi and many eaters listed as their favors. Green and premature sticky rice seems attract all quintessences of sunlight and winds. Nothing is better than tasting green, and soft with light smell of green sticky rice to make a wonderful bowl of "che com".