Published: 11:23 Saturday - January 18, 2014
With a vacation in Hoi An on Tet holiday, you will not feel alone during the first few days of the new year as the thoughtfulness of Hoi An ancient town naturally embraces you.
"Three days of Tet holiday, seven days of spring"
On Tet holiday, come to Hoi An ancient town to walk along the streets, which 'curves as a bow curves', and feel both the aroma and smoke of fragrant incenses on your shirt. In the lanes, where the exchange of Heaven and Earth is carried out in much the same manner as that of a gathering of unintelligible pubescent girls, are mysteries that lie in the morning fog and playing winds.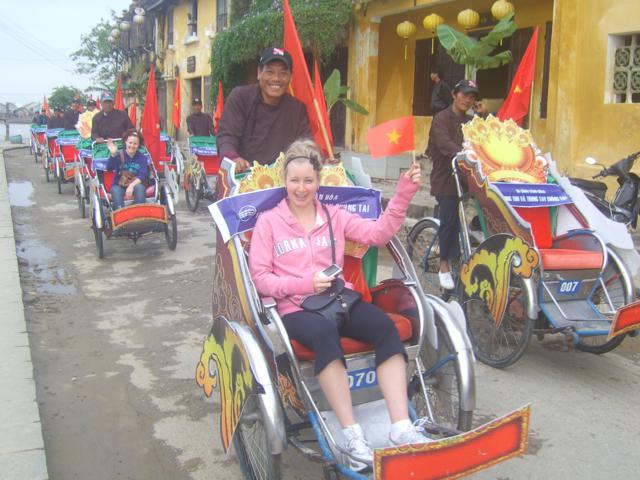 Bumping into the host of local people in Hoi An, you will agree that whatever you are doing and wherever you are going in life, everyone gathers together on Tet holiday. Therefore, "coming back home on Tet holiday" is not an unusual concept but an annual pilgrimage to each person's original point, where each soul is pampered and rooted within the life source.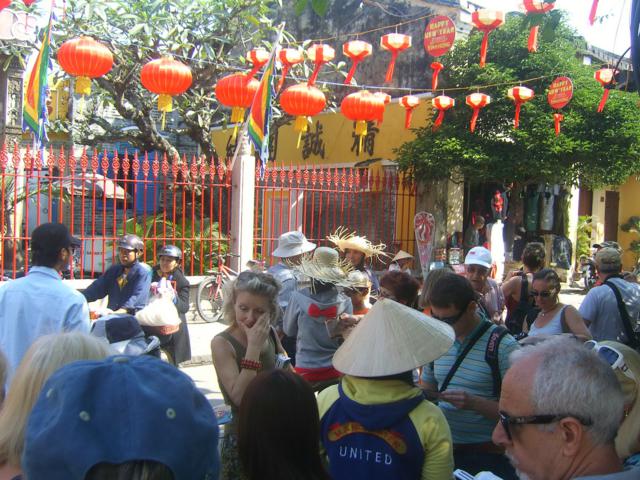 Everything is new and bright. In addition to decorating their houses and buying things to offer to their ancestors, Hoi An's people are interested in apricot flower, the flower that reflects a beautiful spring. When the heaven and earth meets, all pagodas and communal houses in Hoi An ring their bells to welcome a new year. It is a sacred moment of boundless connectivity between souls.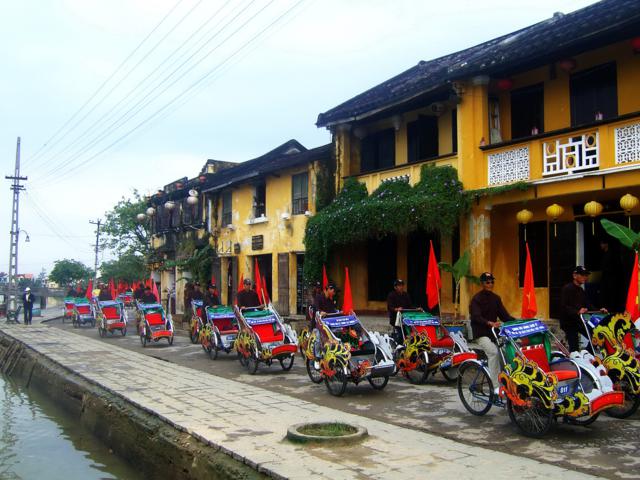 "Normally, in the morning of the first day, in the lunar month, descendants give their grandparents and parents lucky money. On the second day, son-in-laws and daughter-in-laws will wish their parents-in-law a happy new year. On the third day, every one will visit relatives and join in many fabulous activities such as singing traditional folk songs, cock-fighting or playing human chess around the streets", shared Mr. Nguyen Phuong, 87, a resident of Minh An ward.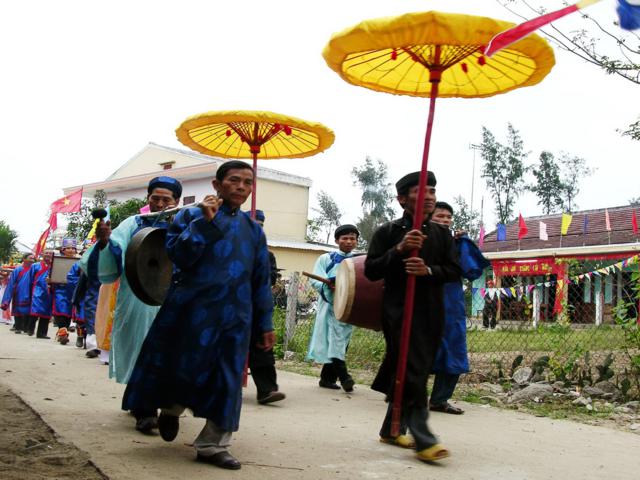 In the afternoon of January 3rd in the lunar month, every family cooks a meal to "say farewell" to their ancestors. However, the repercussion of the Tet holiday still lingers in the air, as dictated by a saying that "three days of Tet holiday is seven days of spring". Even up until the 15th of January in the lunar month, parties sweltering with the warm atmosphere of families in the villages and streets do not end.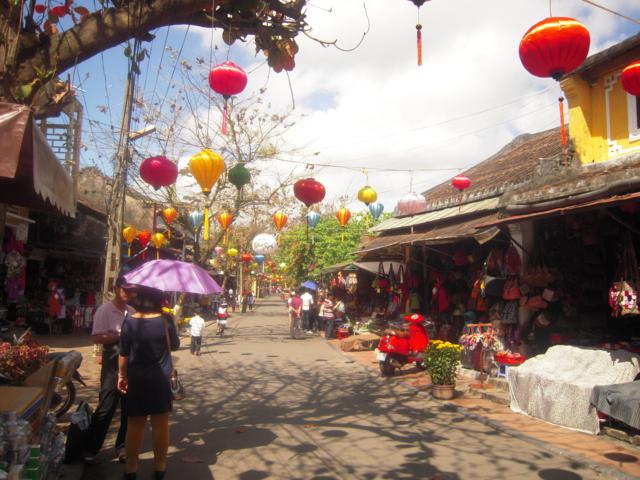 Mr. Nguyen Chi Trung, Director of Hoi An Center for Cultural Heritage Management Preservation said: "In Hoi An ancient town, many folk products and performances are only seen on Tet holiday, such as the performances of classical drama to wish for a lucky new year; writing poems to pray for happiness or reciting Tang poems in ancient houses. In particular, a special kind of cake made of sugar and glutinous rice is only cooked on Tet holiday to worship ancestors".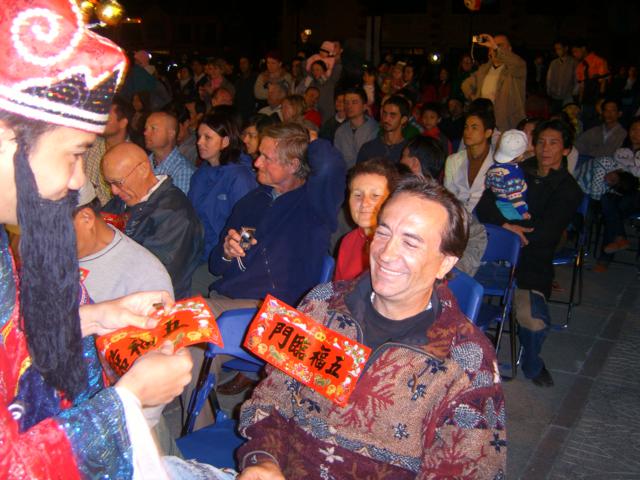 The Chinese community in Hoi An also cooks many strange dishes such as Phậc – Xồi, Yangzhou rice, Fujian fried vermicelli, floating sweet cake, steamed fish and roasted meat to wish for good luck in the new year. Yangzhou rice is cooked to wish for a bountiful, prosperous and happy year.
Wandering around on Tet holiday
On the last days of the year, the streets are filled with hundreds of red parallel sentences written using a special kind of ink. It is easy to recognize the Tet celebrations of Chinese people via the words chosen to wish for a happy new year. The Chinese community counts up to 4000 people. After nearly five centuries, the community has adapted the local culture, but in every one of their houses, their traditional characteristics are still retained. Mr. Thai Te Sung, from Guangzhou, a resident at 120 Nguyen Thai Hoc shared: "although we have lived in Hoi An for a very long time, on Tet holiday, Chinese people here often stick the "Fu" word upside down on everything in the house".

On Tet holiday, Fujian and Heinan communal houses often offer roasted pork to their ancestors, organize lucky draws and pick the buds on apricot trees. Many other communal houses such as Chaozhou, Guangdong perform "sacred dog" dances to pray for good luck and prosperity.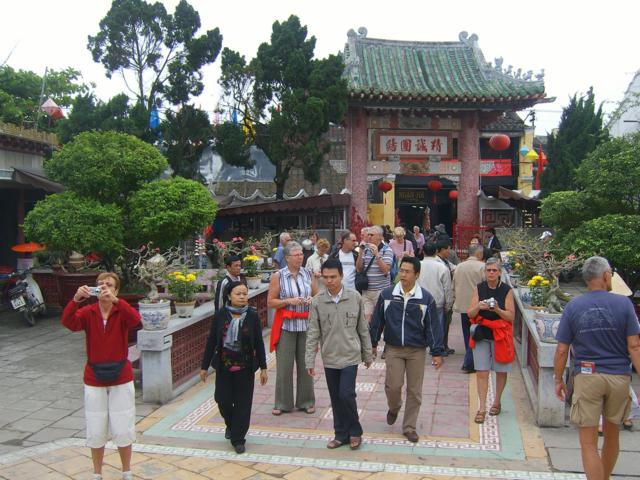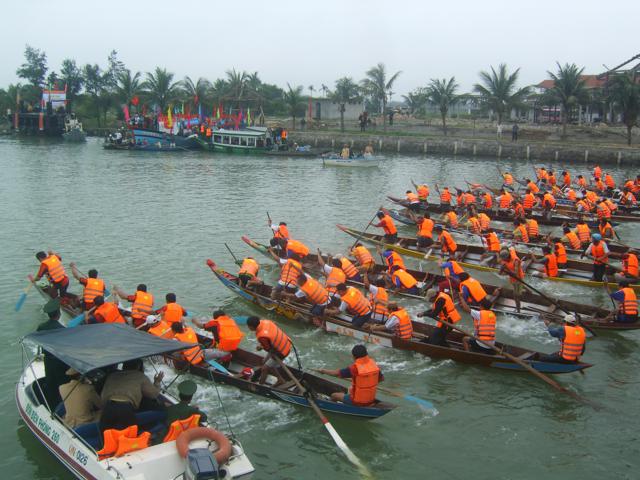 "There are five Chinese communities with their own communal houses. On the third day of January, lunar month, they gather at their communal houses to worship their ancestors, meet other members, share their difficulties and organize games for both children and adults", said Mr. Tong Quoc Hung, the deputy manager of Hoi An Culture and Information Department.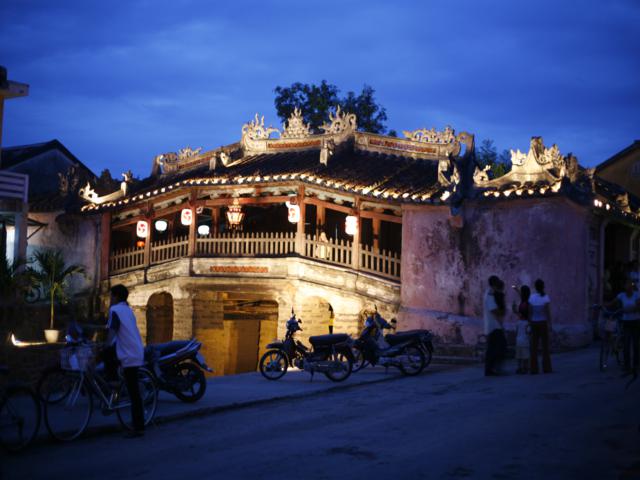 On Tet holiday in Hoi An, you should visit these communal houses to feel the union and boisterous ambiance of these communities. For Hoi An people, all Chinese communal houses are considered as pagodas. It may have resulted from the traditional customs of visiting pagodas in the first days of the new year. Everyone here prays for a peaceful and happy life. Therefore, on the first day of January in the lunar month, thousands of local people flock to ancient pagodas such as Chuc Thanh, Van Duc, Phuoc Lam or Phap Bao.
Tet festivals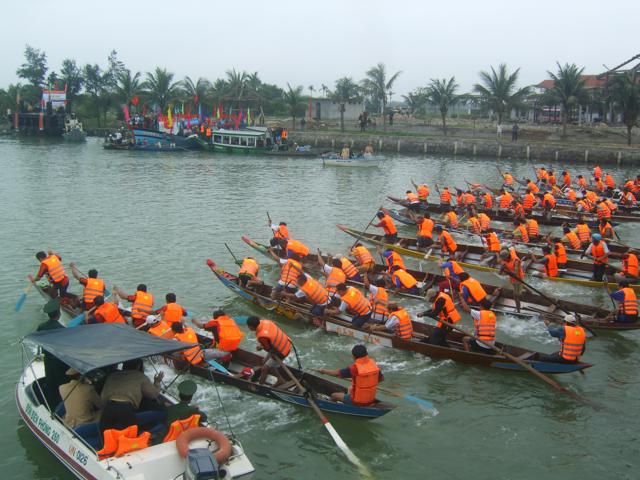 On Tet holiday, Hoi An often organizes many different festivals. You can join in the procession of the local people in Tra Que vegetable village, or the potteries making competition in Thanh Ha ceramic village, or try to sing bả trạo (a traditional folk song) and enjoy many other traditional festivals in early spring.
If you would like to celebrate Tet holiday with the local people, book a 3 day 4 night tour called "Greeting the Tet holiday with Hoi An's people" held by Vuon Trau – Cam Chau Homestay annually. In the lush green betel and areca garden, candles that light up the garden will take guests to the fairy tale story, "The Origin of Betel and Areca" to educate guests on the origin of consuming Betel and Areca and to prepare guests to try betel quid for themselves.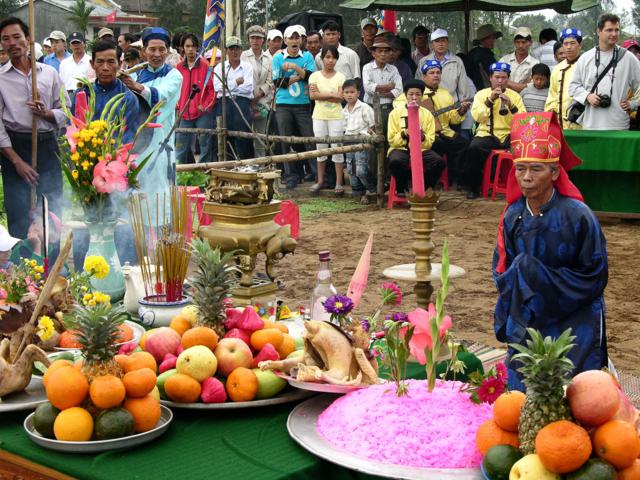 Last year, the Schafers from Switzerland recorded their feelings in the autograph book of Vuon Trau that: "After staying in Vuon Trau, we enjoyed a warm vacation with many emotional fairy tales. In particular, we had a chance to experience the strange lifestyle of a Hoi An resident during the traditional Tet holiday of Hoi An's people".
Along with Vuon Trau Homestay, on the first days of the new year, guests, particularly children, wear neat suits or traditional costumes of Vietnam and visit pagoda and burn incenses. In the afternoon, they can visit local people or friends and take part in many traditional games to pray for good luck in the new year. "Every desire of a new day and happy life will be transmitted to guests with honest and sincere emotions and lifestyle", shared Ms. Vo Thi Le, the host of the program.
Dos on Tet holiday
During Tet holiday, everyone communicates through beautiful words and send wishes for a happy new year to one another. All worries and unhappy things of the old year will be ignored. Hoi An's people and the Chinese communities here do not sweep their houses during Tet holiday because they are afraid of all prosperity and good fortune being swept away. They also do not beat their children or break bowls and plates and neither argue with each other because these things may bring bad luck for the whole year.
Taboos on Tet holiday
The most taboo thing to do during Tet is giving and asking for fire during the first three days of the new year. In particular, people often only visit each other's houses and give lucky money to children and the older kinsfolk after the first caller on New Year's Day has visited the house, as is the order of "visiting father on the first day, mother on the second day and teachers on the third day". This is to express the respect to grandparents, parents and teachers, who are our benefactors. After that, they visit neighbors and friends.
Mr. Phan Dinh Tuyen in Ngoc Thanh village, Cam Pho said: "Adults often remind children to not cry, jostle each other or say bad words on Tet holiday". In addition, Hoi An's people also refrain from traveling in the new year. Therefore, they often base their decision to travel on the year they were born, to choose the day and hour as well as the direction for traveling in the new year.
While visiting Hoi An on Tet holiday, you should dress formally and behave politely. Do not worry if you do not know much about the famous attractions or festivals because local people will help you to answer any questions in the streets. Walking along the streets is rather exciting if you want to view the entire scenery of the ancient town and witness the lifestyle of its people on Tet. Then, you can drop by a peddler's buffet by the Hoai river or Cau pagoda to enjoy the specialty dishes of the ancient town.
If it is possible, on the first day of the new year, you should visit the pagoda and burn an incense to receive good fortune that the Heavens donates us in the only day of the year in which Heaven and Earth exchange greetings.