Published: 10:05 Tuesday - June 26, 2012
The Grotto looks marvelous inside with hundreds of stalagmites and stalactites of different sizes and shape. On the cave ceiling, there are glittering gold and silver-like veins. Some stalagmites produce an echoing sound when slightly knocked.
400m from the entrance of Phong Nha Grotto and 130m above sea level is Tien Son Grotto which is Dry Grotto or Upper Phong Nha. Climbing to high, tourists reach the entrance of Tien Son Grotto. Deep 1,000m inside the mountain, the grotto like as a stone castle. Its vault is high and well-venti¬lated, and has white veins that seem to be gilded with silver and gold.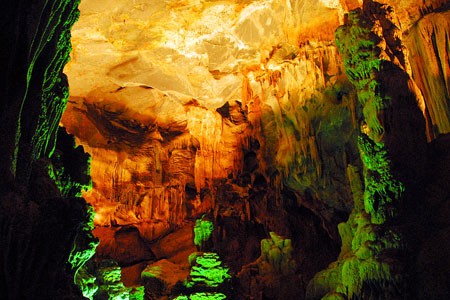 Specially, visitors to the grotto can enjoy acoustic resonance from slabs of stones and stone columns. Knocking at stones, they produce unusual sounds that seem to resound from the earth's womb. Tien Son Grotto is 980 m long and approximately 400m from the entrance is a 10m-deep abyss, and that is also the distance visitors are allowed to go in.
According to the studies of explorers from the Son Grotto was formed millions of years ago. It is even older than Phong Nha Grotto. Phong Nha and Tien Son create a beautiful picture in the complex of caves and grottoes in Phong Nha-Ke Bang Natural Heritage Site. Phong Nha Caves are 50km from Dong Hoi City. Opening time of sightseeing site: 7am to 5pm every day.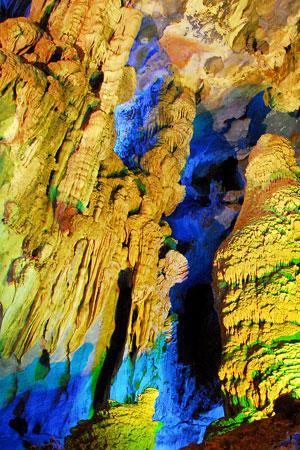 The newly-discovered Thien Duong Grotto is situated at Milestone 16 on the western line of the Ho Chi Minh Road, within the Phong Nha-Ke Bang National Park, Phu Trach Commune, Phu Binh District, about 30km from Phong Nha-Tien Son Grottos. It is a dry grotto with no underground river. The early evaluation of the British Royal Expedition shows that Thien Duong remains untouched, with a very splendid beauty, longer and larger than Phong Nha or Tien Son Grottos. In the grotto, there are several high and wide arches with numberless strange shapes. Deep in the grotto, stalactites are seen nowhere, even in Phong Nha or Tien Son Grottos. The big, round beautiful stalactites adjoining one another sparkle like stars in the dark sky.