Published: 22:42 Friday - July 19, 2013
Ha Long Bay is considered one of the most valuable treasure of Vietnam and probably the top tourist attraction of the country. It also has been listed in UNESCO's World Heritage Site and recently been voted as one of the New7Wonders of the World.
In fact, Ha Long is a place in which we should visit once in your life to admire the sculpture of nature that Creator has bestowed.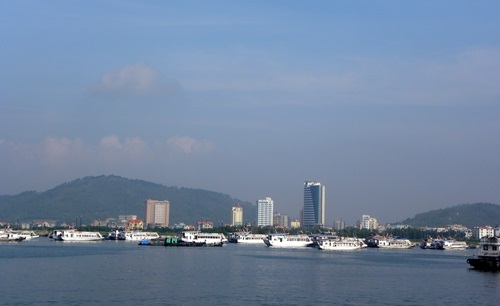 Looking down from above, Ha Long Bay looks like lively picture. Ha Long owns the beauty of world wonder. According to the legend, Ha Long Bay is surrounded by many islands as pearls released by dragon. Therefore, it attracts many tourists coming here to both explore the legend and admire the majestic beauty. Here are some famous places such as Hon Trong Mai, Hon Con Coc, Sung Sot Cave, Thien Cung Cave, Soi Sim Islet…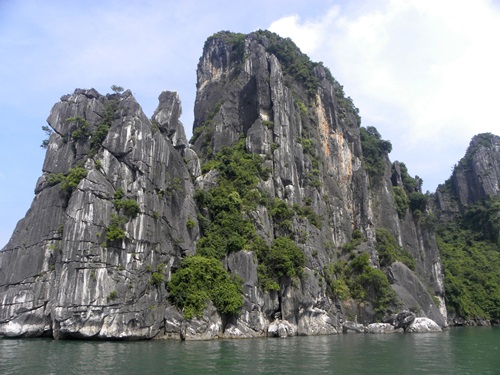 Stone mountain on Ha Long Bay
First off, visitors should visit Soi Sim Islet. Soi Sim is an small island which is located in the west of Ha Long Bay.  It's about 12 kilometers far from Bai Chay tourist wharf and about 700 meters from Ti Top Island. This is a land - island with two peaks around 100 meters high, a dimple in the middle, and slopped to the southwest.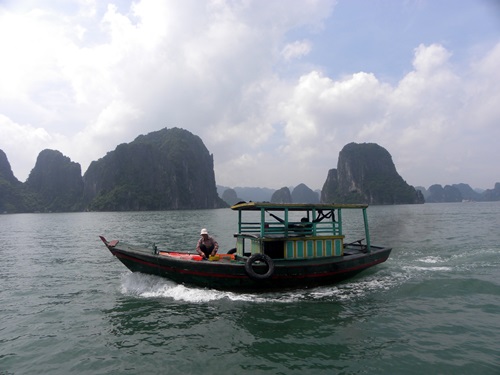 Fishing boats of fishermen on bay
Talking about the name "Soi Sim", the local people said that in the past, the major plant on the island was Rhodomyrtus tomentosa that is called "sim" in Vietnamese. Therefore, the island was named after that plant, "Soi Sim".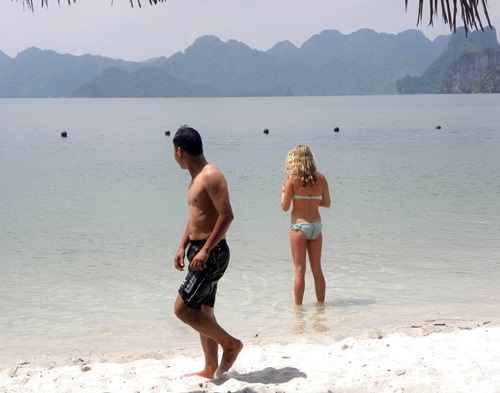 Visitors swim at Soi Sim beach
Soi Sim Island has an area of 8.7 ha. On the island, there are two 200-meter hills covered by a green primeval forest. This primeval forest is home to many species of flora, especially endemic plants. According to the researchers, the reason Soi Sim has many endemic species is that this island has formed hundreds of millions of years ago, then was surrounded by sea. The local people said that previously there were many myrtle grew on the island, then it was named as Soi Sim.
Coming to Soi Sim Island, tourists will be impressed by peaceful ambiance and natural beauty of green primeval forest and blue sea. There are two charming beaches on the island with the stretch of white sand and clear seawater. These are the preferred beaches of tourists on the holiday on Ha Long Bay. Moreover, from the top of the hills on Soi Sim Island, tourists will have great views to the spectacular scenery of Ha Long bay.
One of the best places that Visitors should have pay a visit is Thien Cung Cave and it is certain that you will never forget its magnificence.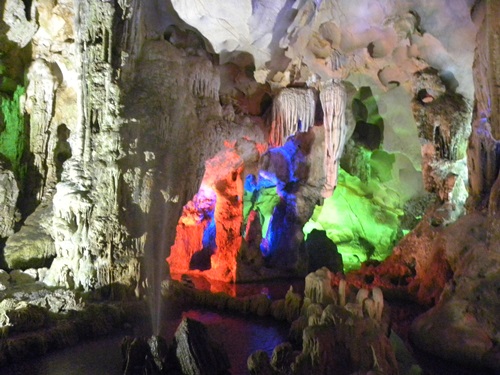 Thien Cung Cave
Located about 100m in the northern of Dau Go island, Thien Cung Grotto is  a large cave with well-known beauty of Ha Long Bay. It is one of the most recently discovered caves in the bay, but that certainly does not make its interior any less impressive. In addition to the countless stalactites that hang from the high ceiling, visitors are often struck by the breathtaking artwork create by the hands of time.
Coming to Ha Long Bay, visitors will certainly have memorable moments in your life.
 Nguyen Hao