Published: 22:59 Monday - February 18, 2013
For the Thai people in Tay Bac (the northwest region in Vietnam), "home-stay guest in stilt house" refers to distinguished guests from far hamlets who visit their houses. However, "home-stay guest in stilt house" means a unique tourism product for the Thai people in Lac Hamlet, Mai Chau District, Hoa Binh Province.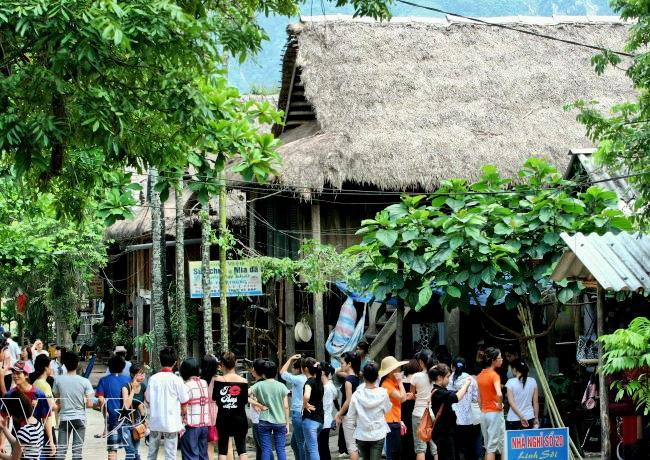 Stilt houses in Lac Hamlet are considered "hotels" in the forest
Visiting the stilt house owned by Ha Van Minh for the first time, we had a familiar and warm feeling. The floor of the house is very large and made from bamboo with blankets and pillows neatly arranged. It was the place for us to sleep at night.

The space under the floor is for having meals and drinking tea. While inviting us for a cup of hot tea, the host said: "Let me prepare a meal for you with Mai Chau glutinous rice, boiled chicken, carp-bamboo sprout soup, smoked buffalo meat and alcohol, all right?" The mere thought of this meal made our mouths water.

At sunset, it was slightly cold and we took a stroll on the path in the hamlet to enjoy the sweet scent from the paddy fields and buy some goods from the Thai people. In front of each stilt house, people put some small tables for displaying their brocaded products, such as purses, handbags and Pieu scarves (a traditional scarf of the Thai people).

They also hung an abundance of long cloth rolls and Ao com (a short traditional shirt of the Thai People) with distinctive patterns. In addition, unique products like wooden bells for buffalos, bamboo flutes, bows and cross-bows and knives were also displayed for sale. All the products were hand made by the Thai people.

Here, we felt very comfortable to select some items to buy while the owners were absorbed in their work by the looms. Brocade weaving is the traditional craft of the Thai that creates cultural characters that fascinate tourists going to Lac Hamlet.

An unusual cultural feature of the Thai people is clearly seen through their costumes: a scarf that crosses the head, a blue shirt, and a black floor length skirt. Girls often wear a brocaded piece that crosses her chest that helps them look graceful.

When night fell, Mai Chau became boisterous with drumbeats performed by the hamlet's artistic band. Not long before, Minh – the owner of the stilt house where we stayed - had beaten the drum to signal that a Sap (bamboo pole) dance performance would be held at his stilt house.

In Lac Hamlet, all families can organize a bamboo pole dance performance, but they hold it in shifts. Sometimes, the performance is held at the family that has a large number of guests.

A dancing team often includes beautiful girls who learned dancing, singing and even a foreign language to receive tourists. Each performance often ends with a Sap dance and girls inviting guests to drink Can wine. We all were drawn in by the lyrics of the songs and dances of the Thai girls.

When the party ended, it was cold so we curled up in a Sui blanket made from the bark of an Antiarias tree to have a good sleep right on the floor of the stilt house. It was a real interesting experience to have a home-stay tour in a stilt house in Lac Hamlet.

In Lac Hamlet, there are 25 stilt houses for tourism which were built in a chessboard architectural style. Each house was numbered from 1 to 25. Payment for an overnight stay in the stilt house is 50,000-70,000VND/person. Tourist activities bring the main income for the Thai people in Lac Hamlet.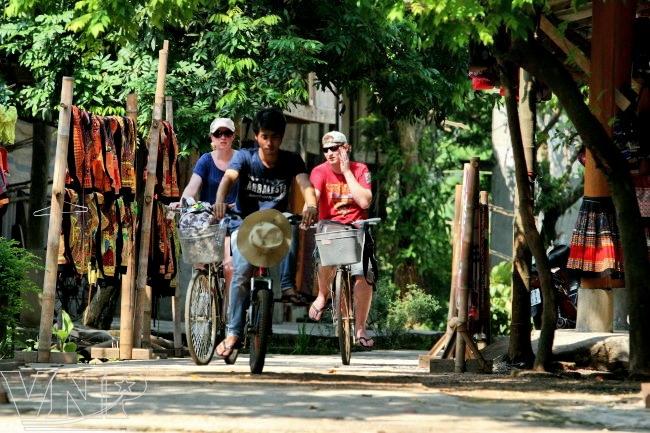 Touring the hamlet by bike is a real interesting experience for foreign tourists.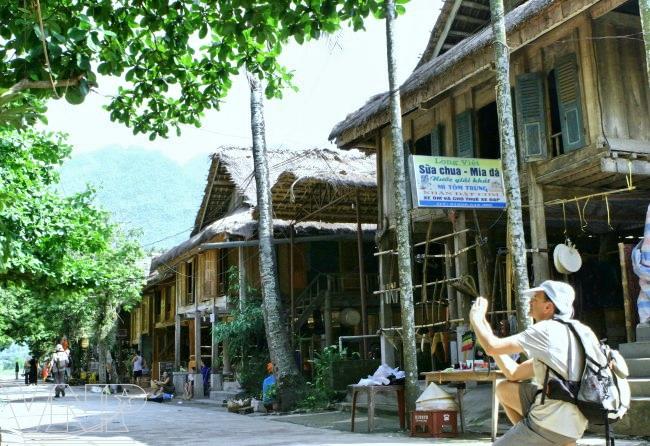 Recording images of the hamlet.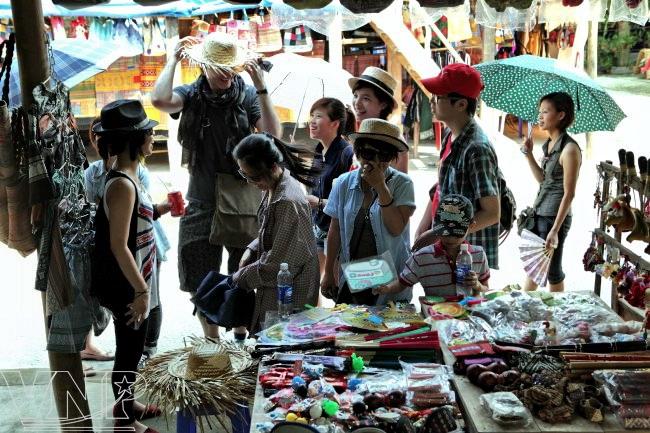 Tourists buy souvenirs in Lac Hamlet as presents for their relatives and friends.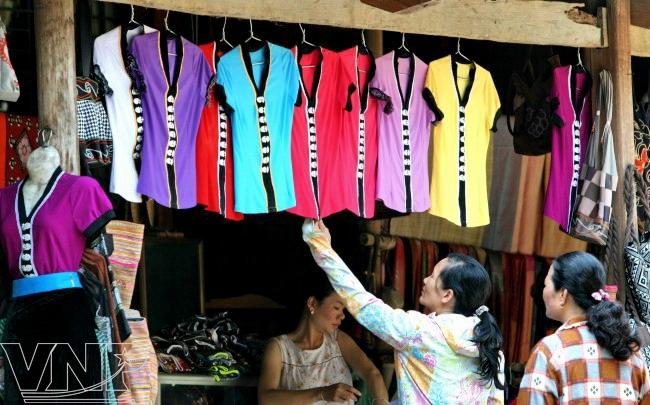 Tourists are interested in Ao com made by the Thai people.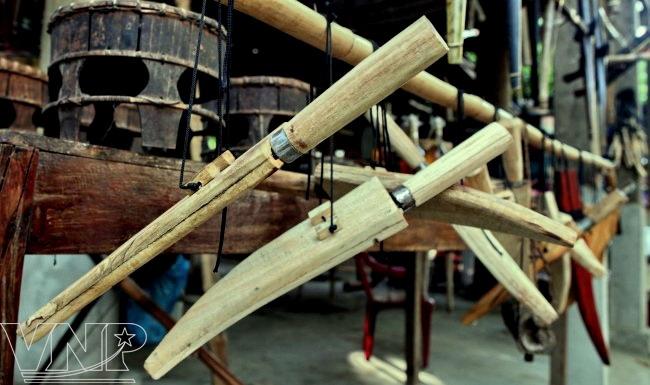 Diverse colourful souvenirs are displayed for sale.
Ha Thi Muoi shows tourists her techniques on weaving brocade in her stilt house.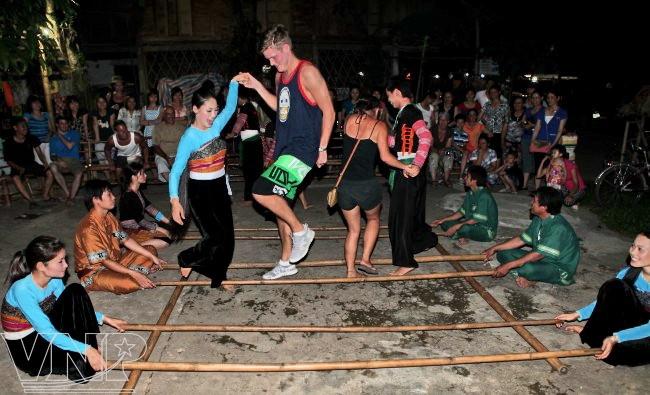 When night falls, tourists can participate in a Sap dance performance with hospitable and graceful girls in the hamlet.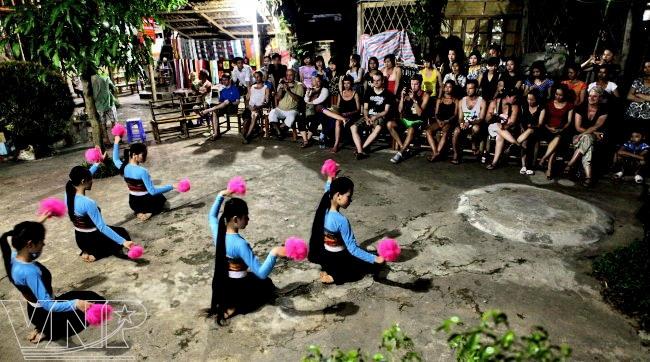 Tourists enjoy a traditional dance of the Thai people in Lac Hamlet.
VNP