Published: 16:03 Thursday - April 26, 2012
Trinh Nu Waterfall (Virgin Waterfall) attracts visitors with hundreds of ridiculous-shaped stones and the sound of water slapping all year that likes crying sound of the faithful girl.
Despite of belonging to Dak Nong, Trinh Nu Waterfall is only about 20km far from Buon Ma Thuot. Along the way, high and continuous mountains, meandering slope, vast coffee gardens and the lightly cold weather in this area will make visitors contemporarily forget all troubles in life, put their souls in the nature, in the peace of a beautiful highland region.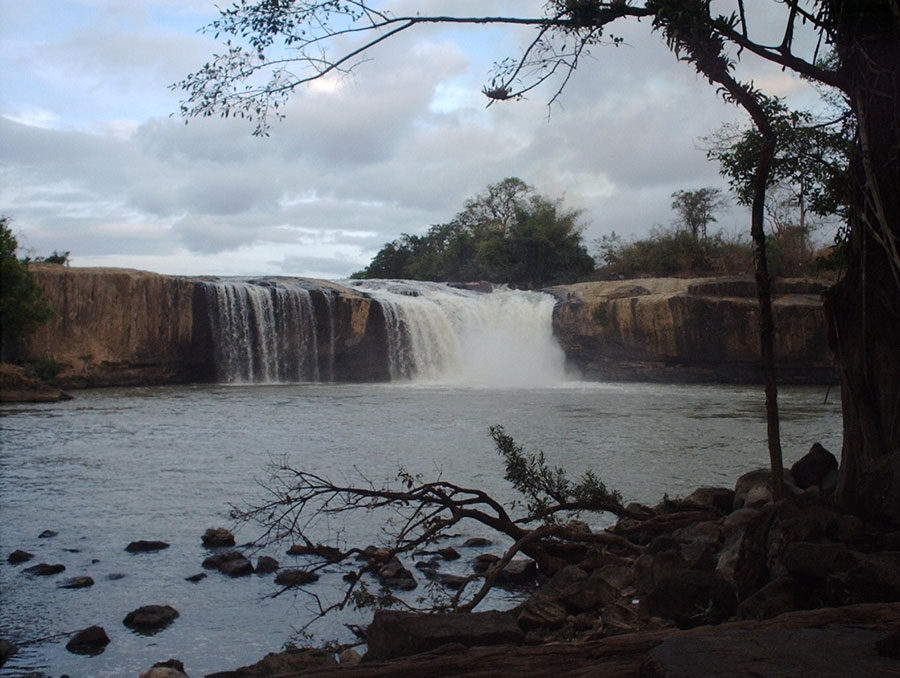 Not being an imposing waterfall having the water flooding from high, Trinh Nu Waterfall is just a hundred-meter-long part of Knongno River where the water flows very strongly. The legend has that anciently there was a beautiful Ede girl who was forced to get married with a rich old chieftain by her family. She couldn't act against her parents as well as couldn't betray her poor lover so she jumped into this part of Krongno River to commit suicide. Being moved by her faithfulness, in the place where she dead, Giang (God) created the mounting rapids with hundreds of different-sized, ridiculous-shaped stones to intercept the water flow so that the water has slapped to the rock crying for her for thousands of year.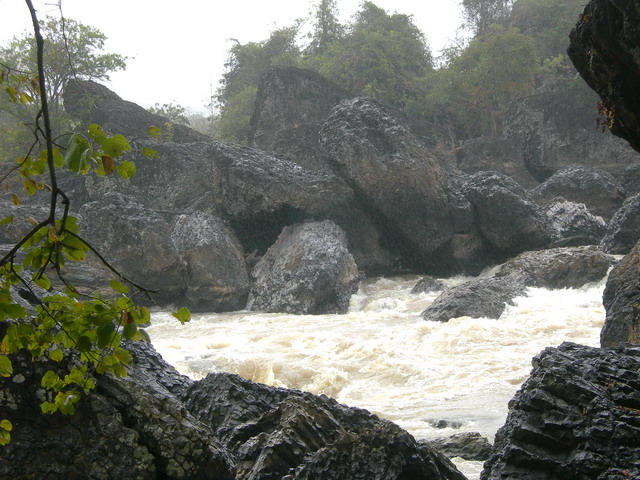 In the rainy season, when water strongly flows on the river, from far people can hear the sound of water slapping to the rock, resounding all over the forest. This fascinates visitors to come to the spring coast to contemplate the majestic, wild landscape of the waterfall.
In the waterfall, there are hundreds of stones locating all over the spring. The erect or oblique stones create big and small groups and meandering cavities. There are many white stones which are pockmarked like corals, and colorful stones lying alternatively which are brilliant like marbles in the fish lake. The flow is also special because it doesn't flood from the high but still makes up far-resounding sound like flowing from the several-meter height, spreading white foam.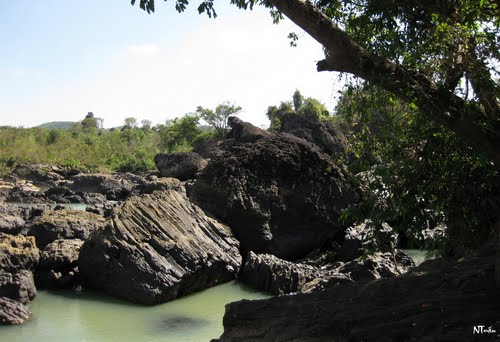 To fully contemplate and feel the beauty of the waterfall, visitors should walking slowly along the meandering road way. When they don't want to continue, they can stop in cute that ched tents, seeing the immense rock field in the upstream or the large green forest in the downstream and enjoying the good-smelling grilled meat, hot tube wine under the light sunshine, dry wind of this area.
Translated by V.T.D
Source: 5giay.vn