Published: 16:12 Thursday - April 18, 2013
BaiTho Mountain (Poem Mount) in Quang Ninh is well-known for its beautiful and majestic landscape, becoming an ideal attraction.
BaiTho Mountain (Poem Mount) is located in the heart of Ha Long city, Quang Ninh province, 200 meters in height, a valuable cultural and historical relic. In the past, the mount was called "Truyen Dang". By February 1468, on his visit to Ha Long, Le Thanh Tong King wrote a poem on the mount. From that time, the mount was renamed "BaiTho".
In addition, the mount has been carved by vestiges of some other poems of famous poets: Nguyen Can. At the foot of BaiTho has Long Tien pagoda, built in 1940 to worship Buddha and generals of Tran Dynasty. The pagoda owns a very unique architecture, features for Vietnamese culture.

From a distance, BaiTho mount is look like a giant castle with three towers on undulating solidly walls. Conquering the mount is not easy, but you did, you will be surprised by the spectacular landscape of Ha Long bay, by the beauty of immense sea, by magical stone islands….When you are on the top of BaiTho, you will have the chance see firsthand an overview of Ha Long landscape that you have not seen ever; this feeling is really excited.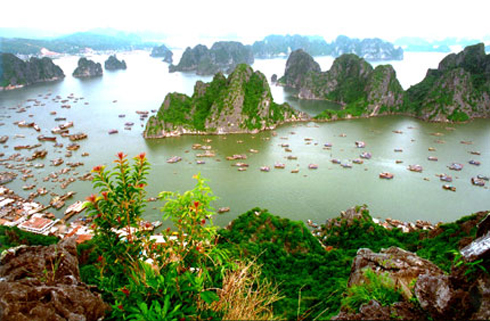 The sight was seen from Bai Tho mountain
Indeed, Bai Tho mount is one of the best choices for those who would like to conquer nature and themselves; experiencing new feelings; enjoy clear atmosphere; understand about the history. Long Tien pagoda on BaiTho is ideal destination for local and international Buddhists.
Translated by Vuong Bich
Source:Dulichhalong