Published: 15:56 Wednesday - November 30, 2016
Ba Be Lake is also called "Slam Pe" by the locals, which means three lakes. The lakes are connected with one another. According to geologists, the lake sits 145 meters above sea level and was formed more than 200 million years ago. It's surrounded by limestone mountains which are more than 450 million years old. Much of the limestone in the region has been transformed into granite.
Located in Ba Be National Park in Bac Kan province, Ba Be Lake is Vietnam's largest and one of the world's 100 largest freshwater lakes. It embodies unique geological features and rich biodiversity.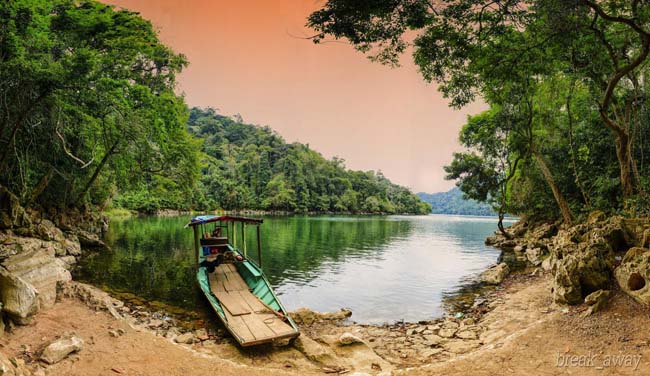 Ba Be Lake was recognized as one of 20 freshwater lakes in need of protection at a conference held in the US in 1995. In 2011, UNESCO recognized Ba Be Lake as a Ramsar Site, the third wetland of international importance in Vietnam. The water level in Ba Be lake changes between rainy and dry seasons.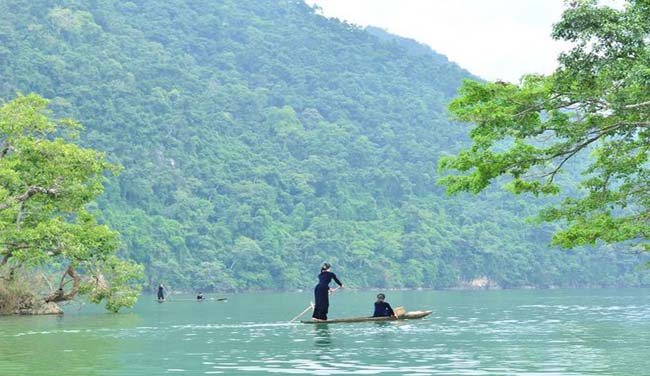 Au Dinh Huong, who operates a canoe for hire on Ba Be Lake, says "The water in Ba Be Lake is green all year long. Leaves fall on the lake surface and then sink turning the water green. The lake becomes a little muddy during the flood season but it turns green again a few days later."
Visitors to the lake can hire a local dug-out canoe to go around the lake to admire its beautiful scenery, magnificent caves and upstream waterfalls. A motorboat is another popular choice.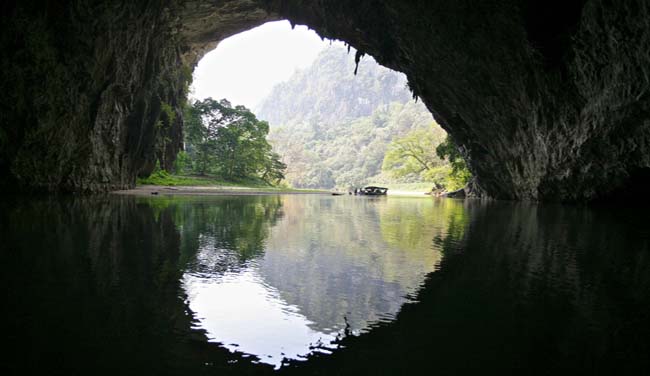 Mr. Huong said "All visitors praise the beauty of the lake. They say it's pleasant to sit on a boat traveling around the lake, which takes about 1.5 hours. To visit all the scenic spots in this area takes 4 to 5 hours. The lake is 9km long and 1km wide."
In the middle of the lake are two islets called An Ma and Ba Goa (Widow). Around the lake are Ao Tien (Fairy Pond), Po Ga Mai (Hen) islet, Puong cave, and Dau Dang waterfall. Ba Be lake is the habitat of more than 50 species of freshwater fish and many rare and precious flora species that are included in the Vietnam Red Book.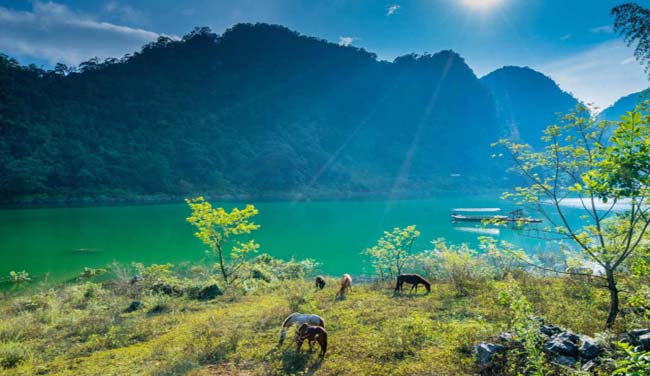 Ms Ma Thi Thinh, a Tay ethnic local said "There are fish, shrimp, oysters, and mussels. The tiny shrimps are in the lake all year. Visitors always buy them. They are 170,000 VND per kilo. Here, we also sell such local specialties as cakes, glutinous rice cakes, mushrooms, wood-ears, and rice noodles."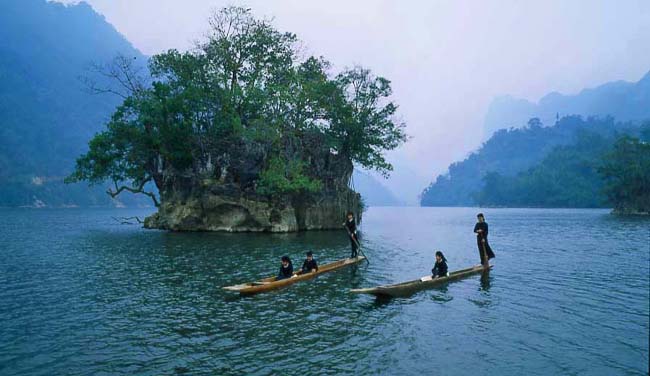 Ba Be lake is beautiful all year round but we recommend you visit the lake in spring, summer, or early autumn. The place is wonderfully relaxing and picturesque. Tourists will soon forget their daily sitting in the shade of ancient trees watching canoes ply green waters of the lake. It's a pure moment of happiness where time seems to stand still.