Published: 14:21 Monday - April 09, 2012
The tomb is one of the most featured heritages of "DolMen" type in Southeast Asia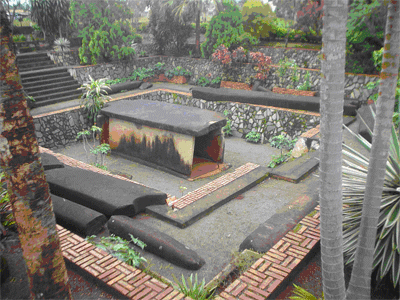 It's a ranked cultural heritage which represents the ancient culture appearing 2.500 years ago. Hang Gon ancient tomb was discovered by Mr. Bouchot J., a French engineer, when the inter-province road number two connecting Long Khanh – Ba Ria was opened in 1927. 
The tomb includes two ranks of rock pillars around a tomb. There are 10 rock pillars about 2.5-3 meters in height. The tomb has the parallelepiped shape, 4.2 x 2.7 meters size and 1.6 meters height. The specialty of the tomb is that it's formed by joined granite rocks which weigh some tons; the tomb cover is partly estimated to be 10 tons in weight. There are many flat big rocks which is ordered balanced, sophisticatedly, scientifically and symbolize the civilization of ancient people. The tomb is one of the most featured heritages of "DolMen" type in Southeast Asia 
Since 1992, Hang Gon ancient tomb has been restored and the defensive walls were built around. People also pave bricks around the tomb to prevent erosion and grew many plants.
This is the most ancient and the biggest tomb in Vietnam which has been preserved until now. Hang Gon ancient tomb locates in Xuan Tan commune, Long Khanh central district in the 250-meter height of the west of inter-province road number two (From Long Khanh to Ba Ria), 80 kilometers far away from Bien Hoa city.
Translated by S.F