Published: 10:12 Friday - December 30, 2011
Dong Cuong Temple is one of two largest temples in the upper reaches of the Red River in Yen Bai and it has existed for a long time.
Dong Cuong Temple, also called Mau Thuong Ngan, is about 50km from the city of Yen Bai, on the right bank of the Red River, set amidst picturesque scenery, where the mountains and rivers harmoniously meet. 
The temple is dedicated to Ve Quoc and the national heroes who fought against the Nguyen Mong (Mongolian) aggressors in the 13th century. The temple is also dedicated to Duc Ong.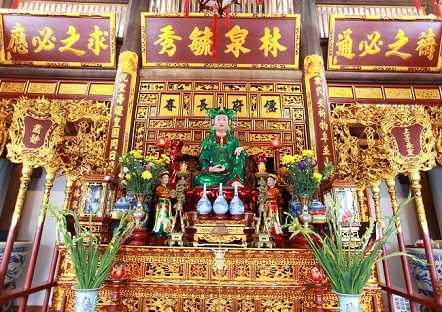 Through the vicissitudes of history, Dong Cuong Temple suffered severe destruction of nature and war. After years of renovation, repair, Dong Cuong Temple is located on the spacious old. Dong Cuong Temple Architecture offers architectural appearance of the Ly Tran temples with curved roof and two dragons flanking the Sun. Wooden poles painted quad set gilded dragons solemn book. In the beginning balance, the first seven, crossbar, and the armpit, the first sentence ... be carved details closely noble animals and flowers. The pictures engraving a sophisticated high level both technically and art restoration. Archaeologists have found many remains of the Son Vi culture (post-stone age period)in the Dong Cuong Temple area.
Campus of the temple was extended, the shade of trees blocking lush, dotted ties peach forest, the forest is prune bloom season. On the temple back to the south, the terrain against the mountain rivers with charming natural scene wearing beautiful paintings. Slopes of approach road running from east to its winding bends as soft as silk running horizontally across the back mountain scene made even more intensive attention, stillness.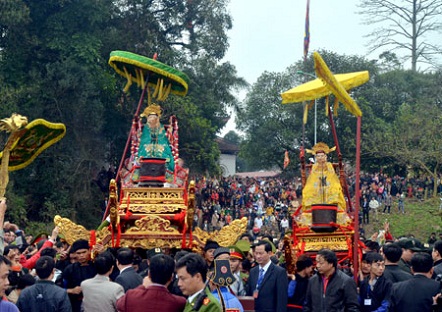 Temple festival is held yearly and a great festival is held every three year in the first and the ninth month of the lunar year. In the first month, a white buffalo is used to worship but a black one is used in the ninth month. In festival days, local people have a Thuong Ngan Queen statue procession to Ghenh Ngai temple.
In addition, there are many traditional games such as dancing, singing, shuttlecock throwing, wrestling, etc. Every year, temple festival attracts many near and far visitors in Vietnam travel to here.