Published: 09:26 Monday - April 09, 2012
Historical sites of Vietnam are always accompanied by an interesting story and Lam Kinh is no different.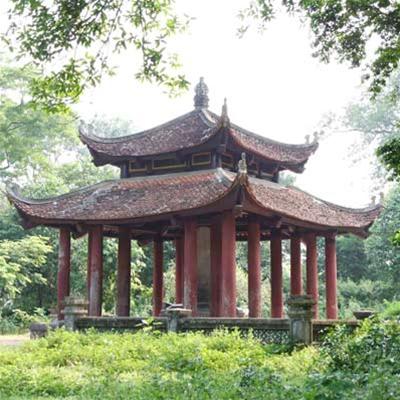 Royal tomb of King Le Loi
Located in Xuan Lam Commune, Tho Xuan District, about 50 kilometers from the center of northwest Thanh Hoa City, Lam Kinh is associated with the Lam Son Revolution from 1418 to 1428. It was also chosen as an imperial city when the King dreamed of a flock of birds gathering to the commune.

The route to Lam Kinh passes through a banh gai (glutinous rice cake dyed black in a concoction of leaves) craft village. Under the shade of ancient large trees, tourists can sense the flavors of the specialties and should not miss out. Then, tourists will see a bridge built in the arc style of old Lam Son.

Reaching the historical land, your first impression is the endless green rice fields, of grass and giant trees. The Lam Kinh Royal Citadel is long gone with some rocks arranged in order all that is remaining.

Some buildings have been reproduced as replicas of the ancient citadel with six temples dedicated to worship kings from the Le Dynasty.

Not far from there, there is a small path taking tourists to the royal tomb of King Le Loi. Dated from over 600 years ago, the small tomb looks rather simple compared to tombs of other kings. Covering around 100 square meters, the sanctuary is surrounded by shady trees, dense groves and a bamboo barrier.
Source: VietNamNet