Published: 14:26 Friday - December 30, 2011
With its gentle O Lau River, Phuoc Tich Ancient Village in Phong Hoa Commune in the central province of Thua Thien-Hue's Phong Dien District seems cut off from the outside bustling world by its stillness.
This quaint village has the typical features of the region with a river wharf, temples and their yards, old pagodas and a winding path lined with green tea trees. The scenery is like a step back in time and each temple and house wears a coat of green moss.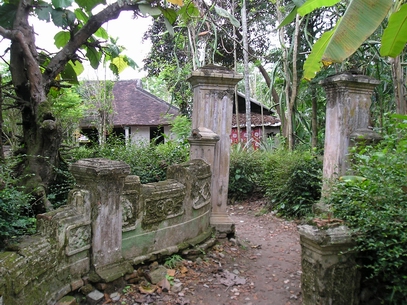 Phuoc Tich ancient Village - Thua Thien Hue Province
Lying silently 40 kilometers north of Hue, the ancient village is well-known for its traditional pottery crafts and ancient houses and temples that have been preserved for as many as 500 years, making them invaluable architecturally and culturally.
Most houses in the village are between 100 and 500 years old and are so well preserved as to astonish cultural anthropologists, architects and historians alike.
Phuoc Tich houses are mainly made of breadfruit wood and are adorned with exquisite and lively carvings, most of them undamaged despite being surrounded by so many wars through the years. The interiors usually include parallel sentences, a horizontal lacquered board, wooden scrolls, a plank bed and an altar. The moss covered tile roofs sag a little under the weight of time and brick walkways, wind screens and old water wells complete the picture. Green lines of Chinese tea trees are a charming green substitute for walls.
Traces of Cham culture remain in the village. Recognition of these national cultural relics brings opportunities for development of the village's tourism potential. Local authorities have organized many activities and folk games for tourists in Vietnam travel to learn more about the ancient village as well as ancient ceramics.
Phuoc Tich was a famous pottery village in its heyday, supplying the entire central region. The village always boasted the bustling ambiance of trade as during the Nguyen Dynasty when trade was brisk throughout the land. Boats and ships from Nghe An, Quang Tri, Quang Nam, Quang Ngai, Quy Nhon and South Vietnam all sailed here to buy pottery.
The pottery has no enamel but a simple and natural beauty. Starting in 1989, the craft began fading and then vanished as it could not compete with Chinese ceramics and many local young people started heading to the cities to earn money.
In the village is a canal called Ha Cat which winds along O Lau River. This is where souls settle after returning to dust.
In the center of the village is a 1,000 year old tree standing in front of an old temple. The village is also famous for its old gardens with many precious kinds of flowers.
Phuoc Tich is a attractive destination which tourists in Vietnam Tourism can't be ingnored!