Published: 14:05 Tuesday - June 26, 2012
This yellow-white grand colonial-era mansion is a combination of French and Chinese styles which brings about a typical colonial feeling through its marble floors throughout and the spacious, airy rooms. It's no wonder that the building is considered as a masterpiece itself by most people.
Being one of the largest fine arts centers of Vietnam, Fine Arts Museum is located near the Ben Thanh Market, District 1, Ho Chi Minh City- Viet Nam. The museum was originally a mansion of a Chinese during colonial time and after - Mr. Hoa, the wealthiest man of Saigon at that  time, who also owned other famous buildings in the city such as Majestic Hotel and Tu Du Hospital.
As Saigon became Ho Chi Minh City and the country reunited, the building was reformed into a museum in 1987 as the result of a decision of the City's People's Committee, though it was not officially opened until 1991.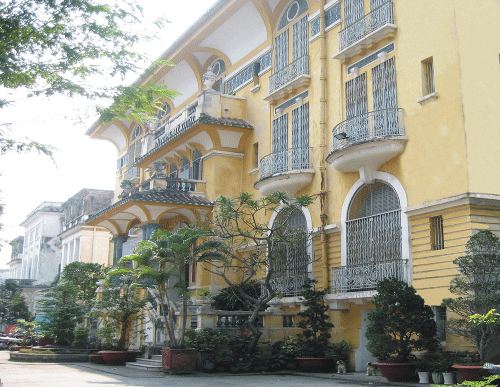 The Fine Arts Museum is indispensable for those who are keen on Vietnam arts and culture. Although the museum itself is not big and modern enough, its abundant collections can make up for these mistakes. The museum focuses on collecting, keeping, preserving and displaying fine artworks typical of Vietnamese people, especially Ho Chi Minh City and the South. It comprises three floors of exhibition space.
The 1st floor is for domestic and international arts display.
 The 2nd floor is where to store arts work – both paintings and sculptures of Vietnamese and non-Vietnamese artists.
The 3rd floor holds a collection of historic arts ranging from 7th century to early 20th century, featuring Champa and earlier civilizations such as Oc Eo archaeological site in Mekong Delta.