Published: 13:10 Saturday - December 29, 2012
If you visit the Mekong Delta, leave the boisterous atmosphere of the busy floating markets behind and go to My Khanh Tourism Village.
Located in Can Tho City, on the route between Cai Rang and Phong Dien floating markets, the village offers rich gardens of more than 20 kinds of fruit interwoven with a system of bungalows, as well as ancient houses.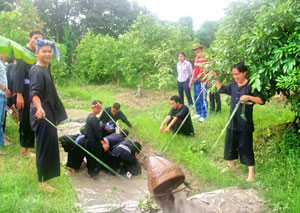 A farmer's life: Tourists play the role of farmers and try to catch fish for their meals.
Pointing to a 100-year-old traditional house, Pham Minh Sang, vice director of the My Khanh Tourist Company, said that the house was purchased from the descendants of the original owner in Binh Thuy Ward, about 10km away. Workers transported it piece by piece from Binh Thuy and reassembled it in My Khanh.

"The old house was damaged seriously," he said, "But we hired skilful joiners who know traditional architecture to repair it. After one year, the reassembling work was complete." Inside the house, old wooden furniture is arranged in traditional southern style.

Another 300-year-old house from the southern province of Vinh Long has been converted into a restaurant.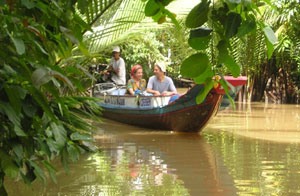 River life: Tourists visit floating markets and discover the surrounding canals on My Khanh yacht.
Visiting My Khanh Village, you can experience how southerners once lived by trying on the costumes of a poor farmer and a rich landlord. As a rich landlord, you can enjoy fruit and hot tea and listen to music from a hand-operated gramophone. As a farmer, you get the opportunity to work and prepare traditional meals.

You can also join in folk games such as climbing areca tree, breaking clay pots blindfolded, jumping in jute bags and tug-of-war.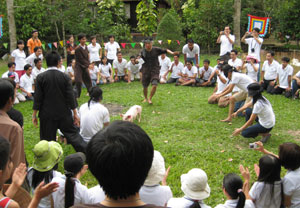 Pigs can fly: It's fun to join folk games such as catching pigs blindfolded
"Probably the best description for My Khanh would be 'a Vietnamese mini-Disneyland,'" said Aleksi Murto, a tourist from Helsinki. "It's a very strange resort, but we had a great stay."

On their first day, the Finnish family arranged a bike tour where they would cycle through tiny villages and see beautiful small canals. My Khanh staff also arranged for them to visit the floating markets, which are close to the site, by private boat.

"I definitely recommend the bike tour," Murto said. "We also had a pretty visit to Cai Rang Floating Market, which took 30 minutes to reach by boat."

Tom Cullmann, a visitor from Montreal, and his wife also had a memorable experience at the resort, which they described as a wonderful mix of kitsch, bewilderment and discovery.

"There are Flintstone-style bungalows, lush tropical grounds, exotic fruit plantations, a crocodile park and even a pig-racing arena," he said. "I was particularly intrigued by the historical manor-house. With its beautiful furnishings, it feels like a throwback to the colonial days of Indochina."

The resort also has different demonstrations, including traditional Vietnamese crafts such as the making of rice paper for spring rolls and rice liquor.

Tourists can hire bicycles and scooters to discover the whole region, filled with canals, rivers and river islets. Simple houses, lush greenery and water are everywhere.

Cullmann particularly enjoyed a pre-dawn boat ride on the Mekong River. "We saw the sun rise over the Mekong as the river people prepared for the floating markets," he said. "This is National Geographic material!"
Source:VNS