Published: 22:25 Wednesday - November 16, 2011
Foreign visitors joining Vietnam Tourism are deeply impressed by the traditional dress for Vietnamese women. It is called "Ao Dai."
Girl students dressed in white long robes take to streets on the way to schools or back home, or gracefully sail on their bikes along streets. Female secretaries in delicate pastels greet you at an office door and older ladies in deep shades of purple, green or blue cut a striking pose at a restaurant dinner. The ao dai appears to flatter every figure.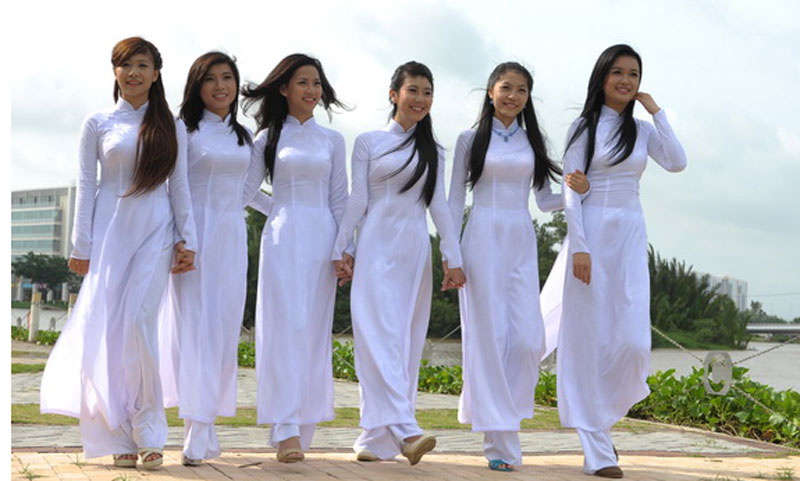 Its body-hugging top flows over wide trousers that brush the floor. Splits in the gown extend well above waist height and make it comfortable and easy to move in. Although virtually the whole body is swathed in soft flowing fabric, these splits give the odd glimpse of a bare midriff, making the outfit very sensual. 
Ao dai is made individually to fit each customer's shape to create the most graceful possible look. The pants should reach the soles of the feet and flow along the floor. 
Comfortability is always taken into account for fashions and beauty. Tailoring must ensure the wearer's freedom of movements. Despite it is a long robe, ao dai must be cool to wear. Synthetic or silk fabrics are preferred as they do not crush and are quick drying, making the ao dai a practical uniform for daily wear. 
The color is indicative of the wearer's age and status. Young girls wear pure white, fully-lined outfits symbolizing their purity. Older but unmarried girls move into soft pastel shades. Only married women wear ao dai in strong, rich colors, usually over white or black pants. However, ao dai is rarely seen in places where manual work is practiced. The nineties saw a real resurgence of ao dai. It has become standard and common attire for girl students as well as female staff at offices and hotels. Traditionally, ao dai has become the most preferred dress on formal occasions.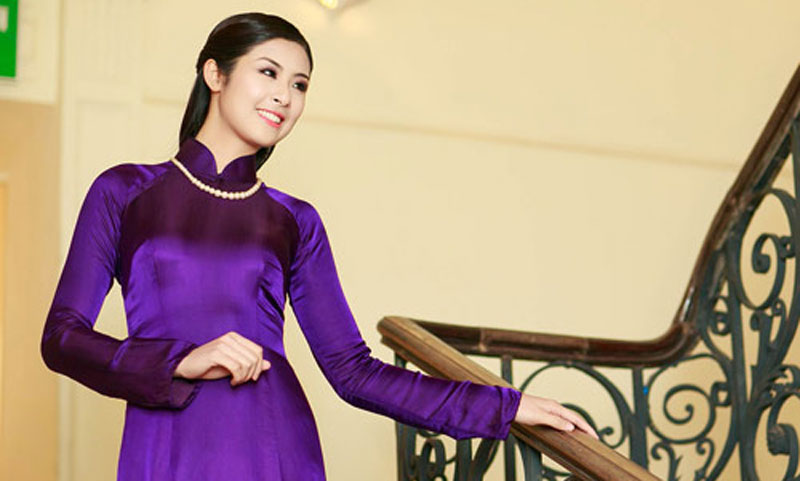 Early versions of the ao dai date back to 1744 when Lord Vu Vuong of the Nguyen Dynasty decreed both men and women should wear an ensemble of trousers and a gown that buttoned down the front. However, not until 1930 did ao dai appear partly similar to its look today. Vietnamese fashion designer-cum-tailor Cat Tuong, called as Monsieur Le Mur by the French at that time, lengthened the top so it reached the floor, fitted the bodice to the curves of the body, and moved the button line from the front to the left side of the body. Men wore it less, generally only on ceremonial occasions such as weddings or funerals. But it took another 20 years before the next major design change was incorporated and the modern ao dai emerged. During the 1950s two tailors in Saigon, Tran Kim of Thiet Lap shop and Dung of a tailoring shop of the same name, started producing ao dai with raglan sleeves. This creates a diagonal seam running from the collar to the underarm and this style is still preferred today.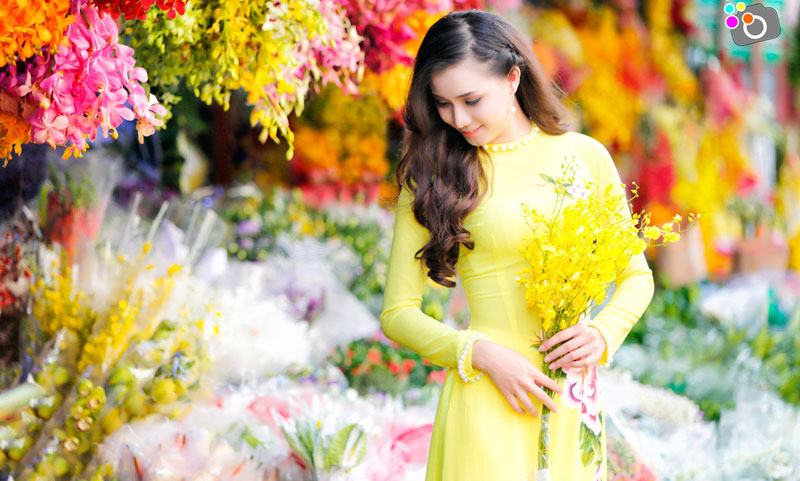 Nowadays, Ao dai has many variations compared with Ao dai in the past.  However, it always keeps it traditional features that flatter the decency, discreteness and harmony for those who wear it.  Therefore, it is not easy at all to think of a more elegant, demure, and yet sexy attire that suits Vietnamese women of all ages than the national costume - Ao dai.