Published: 15:21 Friday - April 27, 2012
Dong Xam silver engraving village belongs to Hong Thai commune, Kien Xuong district, Thai Binh province. It is famous for sophisticated and high-artistic-valued product.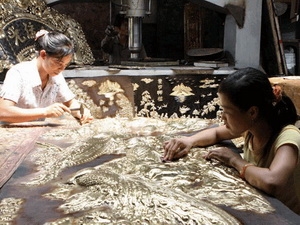 Dong Xam village situates in the east of Kien Xuong district, belongs to Hong Thai commune. The silver engraving career in Dong Xam appeared in XVII century that means it has existed for about 400 years. Formerly, it was a career containing welding, bending basin, making knife and scissor, fixing lock, making handle and spout of pot, hubble-bubble … after that, the craftsmen turned to making jewelry, being specialized in silver engraving.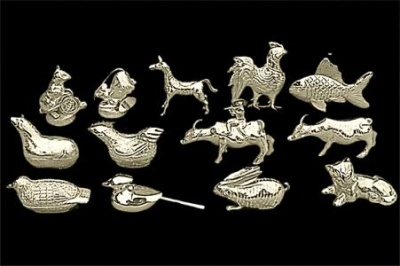 Like other senior craft careers such as bronze casting, metallurgy, jewelry making career brings high income for the craftsmen, the technique is strongly complicated so Dong Xam people have always kept the career secret for hundreds of years. Until now, although the technique is not monopoly of Dong Xam makers anymore, some of the most complex technical and artistic operations are still kept secretly. The old community of silver engraving craftsmen created strict rules noted in the conventions of the village which stated that: anyone who told the career secret to people from other places, other villages; or made the fake products to cheat people, creating impiety will be strongly punished or beaten before the Ancestor's altar, or deleted from the list of community.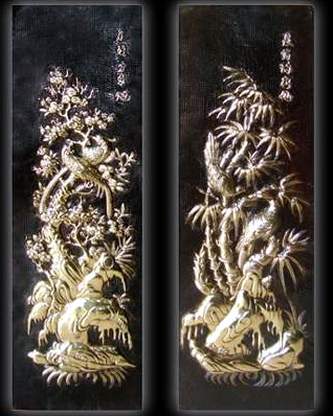 Silver stores of Dong Xam are totally different from and more special than ones in other places due to strange types of shape and appearance of the product; sophisticated and balance decoration projects which are brilliant and clearly express the main topic; light-dark operating method based on the reflective feature of silver. The typical features of Dong Xam silver products are the subtle virtuosity and maximum perfectness. It can be said that Dong Xuan silver artisans with their talent and carefulness have satisfied all requirements of the customers who are the most fastidious and most knowledgeable in art.
Nowadays, most of Dong Xuan craftsmen work in the village, many become rich. Some of craftsmen, especially young ones go to many other places, producing as well as training. In every environment, since previous time until now, Dong Xam silver makers have always put the credibility, talent on the first priority. They have kept ethic, conscience of the craftsmen and technical elite of the country's traditional career.
Translated by D.V.T