Published: 09:31 Saturday - April 14, 2012
Besides martial tradition, An Thai (Nhon Phuc - An Nhon) is also famous of a special noodle that is song than (song thằn) vermicelli. People call this noodle "song than" because they always make two noodle threads at the same time. Many people differently call it "song thần".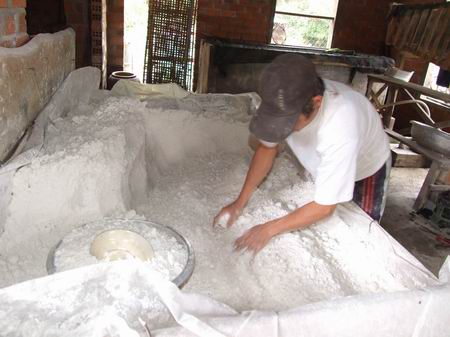 Song than vermicelli (made into separate 30cm-wide square pieces, dried) has its fame thanks to especially delicious taste and high nutrition value. According to Mrs. Ly Thi Huong who is over 70 years old, the only person has kept the secret and produced song than vermicelli. Legend has it that the Nguyen Kings invited An Thai vermicelli makers to come to Hue kingdom to make song than vermicelli but they didn't succeed because the water of Huong River was different from the Con River's one (?).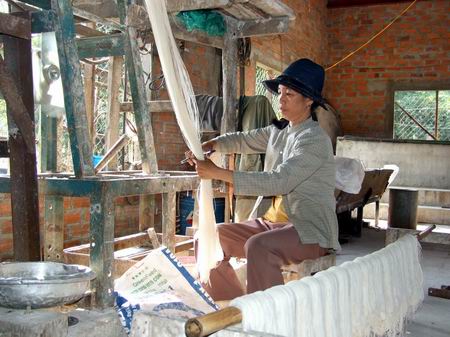 Others say that song than vermicelli making comes from Chinese people living in An Thai in 18th century, but according to Mrs. Huong, it is totally Vietnamese and there is few persons know the secret of the career.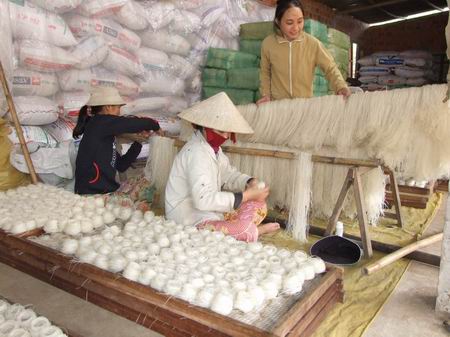 Song than vermicelli is made of green beans. In average, 5 kg bean, after grinded, washed, deposited filtered several times, generates 1.2 kg powder to produce 1kg vermicelli, so the cost is very high, making it not popular.  Nowadays, song than vermicelli making career in An Thai has been remained but the product quality is not the same as before. People in the craft village have tried to improve the product quality, to make eye-catching covering package and to market the product.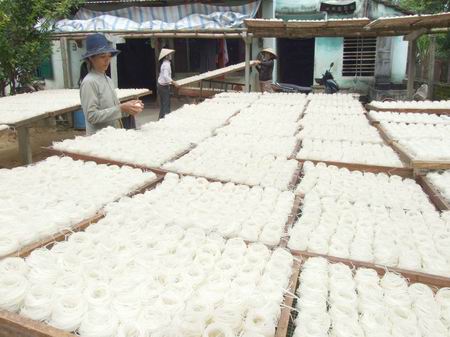 Song than becomes a specious specialty, a kind of rare present. It's so regrettable that the song than making career has been close to disappearance. Worry about this threat, Mrs. Ly Thi Huong has passed the career secret to her son. If there was a store selling Song than vermicelli in right An Thai (or Quy Nhon), guests could have a chance to enjoy a bowl of vermicelli cooked with chicken entrails and buy some kilograms for offerings, producing hometown's specialty.