Published: 11:00 Wednesday - December 23, 2015
Vietnam is the country of many interesting and exciting things to discover and experience. Therefore, tourists come to Vietnam will have a chance to enjoy a wonderful trip and get unforgettable memories. Stunning landscapes and magnificent nature passionate tourists and make them feel comfortable and pleasant during the trip.
There are many beautiful places in Vietnam to visit for citizens of the country and all over the world. One of the attractive places being considered a must - see place in Vietnam that is Suoi Tien Theme Park in Ho Chi Minh City. This is really a wonderful attraction in Ho Chi Minh in particular and in Vietnam in common. Suoi Tien Theme Park is located in Thu Duc District, Ho Chi Minh City and it is one of the biggest theme parks in Ho Chi Minh City.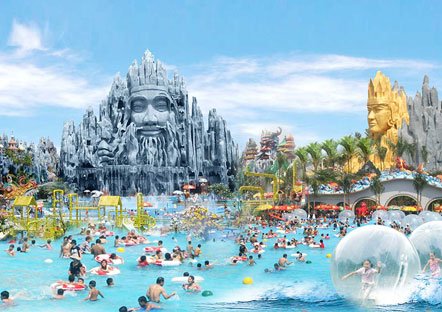 Coming to Suoi Tien Amusement Park, tourists will have a chance to know more about legendary histories of Vietnam and the amusement park is regarded as the park of great entertainment and attracts a lot of tourists each year. The name Suoi Tien - Fairy Stream derived from a story of 7 scared girls died and became fairies in this land. Then the land was regenerated and built to make a great amusement park as in the present. The park is well - known for oriental architecture with the concept on oriental beliefs. It reflects legendary history with legends stories of Thanh Giong, Lac Long Quan - Au Co, Chu Dong Tu - Kim Dung illustrated by statues, buildings and games in the theme park.
Suoi Tien Theme Park offers tourists many activities and games to satisfy your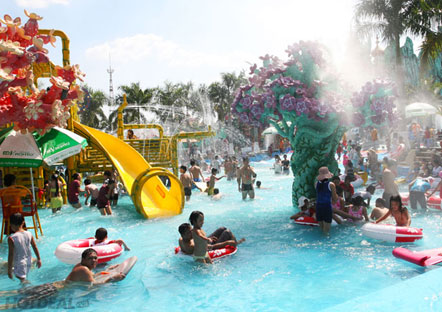 wish such as: Mystery of the Forest, 4D Theatre, Roller Coaster and Air Bicycle, etc... Though you are adults or children, you will have a great time of entertainment in the park. Coming here, you will leave all the worries and sadness behind, you will spend your time participating in funny and relaxing activities and games in the theme parks. 
There are four main things that you should not miss when visiting Suoi Tien Theme Park. First of all, that is water park. It is really an ideal area to play and enjoy the life. The water park is decorated monumentally and majestically. It is so favourable for those who are keen on playing on water as the park offers some fascinating water games for you to enjoy. Otherwise, you can take part in paintball area to try this game. The game is carried out with gear, guns and paint. It is also an interesting and exciting game to try and gives you fantastic experience.
In addition, at the back of the park, visitors will see Crocodile farm. For those who are interested in admiring and learning about reptiles, this will be a favourable place to experience. There are so many crocodile growing in the farm and you may buy something to feed them and observe them. Or if you want to have your own crocodile farm, you can buy a crocodile baby to grow at your home.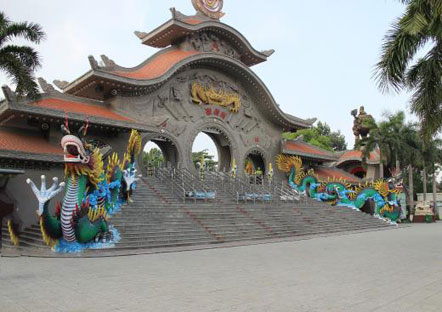 Last but not least, dolphin and sea lion show is another place that you can not miss when visiting Suoi Tien Theme Park. Coming here, you will feel as getting lost into another heaven with cute dolphins and underwater world. You definitely will get comfortable and pleasant feelings and enjoy admiring dolphins swimming around you. Dolphins will give you amazing and interesting shows by jumping through a hoop of fire and hitting balls into the crowd with their tails.
Let's come to visit Suoi Tien Amusement Park when you have chance to go to Ho Chi Minh City. It really an amazing and wonderful attractions in Ho Chi Minh City and a favourable place to enjoy entertainment and get yourself to relax.