Published: 09:52 Monday - October 25, 2010
A long with other traditional festival games, releasing pigeons has attracted numerous participants since the distant past. Some villages including Tam Giang and Hoan Son villages in Bac Ninh Province still maintain the tradition.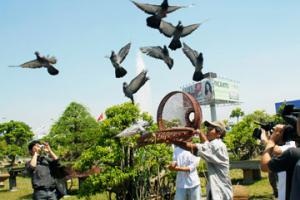 Every year, Hoan Son and Tam Giang villagers organise bird-releasing festivals in the early summer and mid autumn during the third and the eighth lunar months. Each family raises two or three flocks of pigeons. Judges stipulate that each flock in the spring contest may have ten pigeons but only eight in the autumn. The contests are open to anyone-not just Bac Ninh residents. Bird lovers use these occasions to exchange experiences and learn from each other.

The Judges consist of the trich ha, who distributes numbers to participants and then call the numbers for the birds' release, and the trich thuong, who observes the arrangement of birds in the sky to determine the winner, a flock of birds flies beautifully when all their heads huddle together. Seen from the ground, they look like an arrow disappearing on the horizon.

"Before the contest every trainer practises releasing his birds so that the pigeons are familiar with the flight direction. All the birds return unless they lose their way in a heavy storm. Intelligent pigeons can return to their owner seven days or even two years later".

The bird owner should pay attention to the pigeons' eyes, nostrils and wings to have birds that fly both high and well. Good birds usually have eyes with small, round pupils. Birds with translucent, dry eyes do best at the hot summer festival, and those with wet eyes are best for the dry autumn contest. Birds with small nostrils are better than those with big ones because they can withstand windy conditions and fly higher. Large wings, short tails and narrow shoulders also enable birds to be strong, skilful fliers.
Releasing pigeons is considered a refined form of entertainment. As a traditional saying goes, "Men enjoy many kinds of games, but nothing is as pleasurable as releasing birds".
Source: www.vietnamtourism.com