Now, Hau Giang Province has about 1,500ha under pineapple cultivation, of which over 1,000ha belong to Hoa Tien and Tan Tien Communes. Thanks to the suitable soil conditions, the pineapple plants yield big and sweet fruit. In 2006, the trademark "Cau Duc Pineapples of Hau Giang" was recognized by the National Office of Intellectual Property of Vietnam.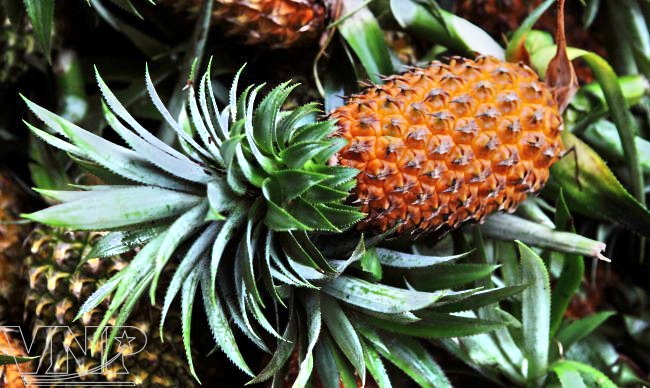 Cau Duc pineapples are of the Queen variety originating from Thailand.
The fruit is big, has a yellow colour and is sweet.
The pineapple harvest usually takes place in late February and early March of the lunar calendar.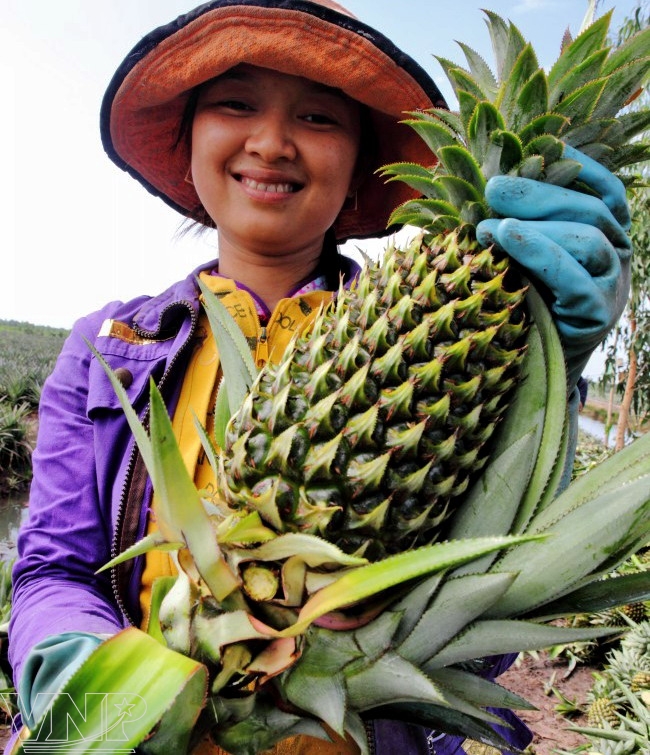 The brand "Cau Duc pineapples of Hau Giang" have been recognized by the
National Office of Intellectual Property of Vietnam.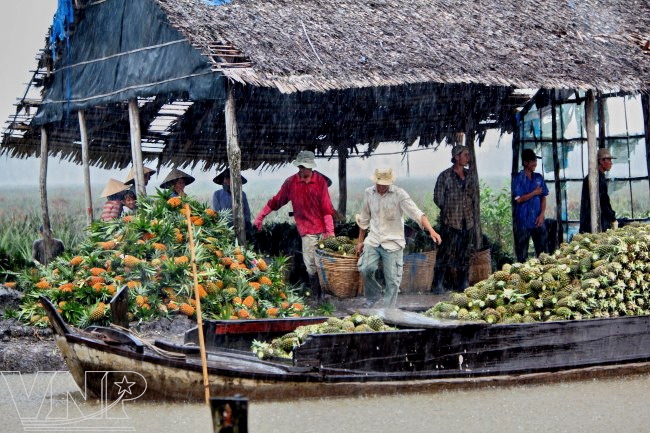 Pineapples are loaded on boats to sell.
During harvest time, traders from many areas come to Cau Duc to buy pineapples.


Cau Duc pineapples are of the Queen variety originating from Thailand. They have a beautiful shape with a short stem, a small core, bulging eyes, dark yellow meat, few fibers and little water. These pineapple plants yield an average output of 20 tonnes/ha. The fruit weighs 1.5-2kg and will not rot for at least 10-15 days.

A lot of households in the communes have become well-off thanks to growing pineapples. Duong Van Thanh or Bay Thanh, who was dubbed the "King of Cau Duc pineapples" reclaimed the salted alkaline areas in 1975 to grow pineapples and now he has nearly 200ha under pineapple cultivation.

He said: "When I started reclaiming the land, the soil was full of the roots of cajuput trees and wild plants. As the forest land was left fallow for a long time it was affected by acidity. I had to dig canals, build edges and deacid the soil. I worked very hard to have green fields of pineapples like I have now".

Every year he sells pineapples to the factories more than 20,000 tonnes of pineapples which he grows or purchases from other farms, and earns a profit of over one billion VND. He has created many jobs for over 60 people who are children of families of martyrs and war invalids or poor people in the region.


Hau Giang Province has about 1,500 ha of pineapple cultivation.
Beds of pineapples are numbered.
The pineapple plant is over 1m high and the fruit weighs 1.5-2kg.
Between the beds are canals for small boats to travel, which is very convenient
to care for and harvest the pineapples.
Transporting pineapples from the fields by boats.
A pineapple stall in Cau Duc.


Cau Duc pineapples are processed into many products, such as pineapple juice, dried pineapples, jams, wine and soft drinks. Even the pineapple leaves are processed into fibers and paper pulp, while the pineapple residue is used as raw materials to produce food for animals. Moreover, people also use pineapples to make delicious dishes, like pineapple sour soup with anabas, fried sweet and sour pineapples with pork belly, and braised fish with pineapples.
Source: VNP